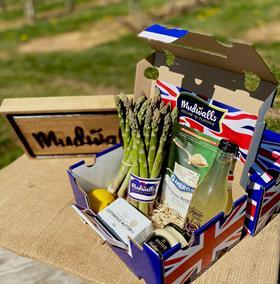 Warwickshire grower and fresh produce supplier Mudwalls Farm has given asparagus a new lease of life by launching a premium asparagus gift box.
Mudwalls founder George Beach says the asparagus pack "is the new box of chocolates", with the box also containing a recipe kit featuring a lemon, parmesan cheese, locally-made Cotswold butter, Hollandaise Sauce, and a bottle of apple juice.
It's already won fans in the shape of restaurateur, writer andGreat British Bake Offpresenter, Prue Leith, who tweeted her support.
"The gift box of Asparagus, Cotswold Gold Hollandaise, Cotswold butter, lemon, Parmesan, and apple juice has just arrived, sent by Mudwalls Farm Ltd. I thought it was such a good alternative to festive chocolates or flowers that it deserved a mention," Leith tweeted.
Beach said the new format has already sold well, and gives people "a bit of cheer" during current social distancing measures, with the boxes delivered to anywhere in the UK.
"We're getting more sales on asparagus because we've turned it into a gift box rather than just another product on the retail shelf,' Beach says.
"It's diversifying the asparagus market and it's giving somebody a bit of cheer. We said we're thinking out of the box, by putting it in the box.
"They've been going a couple of weeks, and they have done very well. We were very lucky Prue Leith enjoyed her gift. We also had a call from Belgium from someone who wanted to buy it for their friend in Glasgow…People are delighted that it's not just a bunch of flowers or a box of chocolates."
Beach says the box could be the start of more premium fresh produce-based gift box lines, to be sold through new online delivery platform Mudwalls Direct, launching next week.
For now though, Beach is glad to be finding new markets for asparagus spears in the absence of Britain's restaurant, leisure, and hospitality industry, shut due to coronavirus.
"At the beginning of the season the asparagus generally goes to hotels and restaurants, and then the supermarkets pick it up, and then asparagus becomes pretty commonplace.
"Of course this season there were no restaurants or hotels to buy asparagus in the early part of the season.
"I think people are now looking for the better home delivery, rather than the one which just gets the bread on the table."