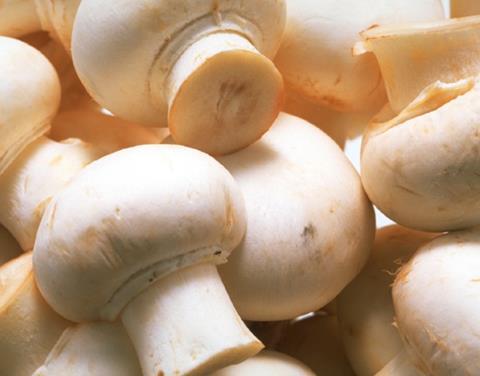 The mushroom industry doesn't know whether to laugh or cry right now. On the one hand, surging popularity and upbeat predictions of further sector growth suggest good times ahead, but on the other producers are struggling hugely with cost increases and the fallout from Brexit. The sword of Damocles is hanging over the sector and nobody knows when or if it is going to fall.
In Ireland, there have already been casualties, with three mushroom businesses having gone bust with the loss of 120 jobs, and several others said to be losing as much as €2,000-3,000 per week. The collapse in the value of sterling post-referendum has been pinpointed as the straw that broke the camel's back for heavily borrowed businesses, and there are concerns that more of the nation's 60-odd producers could fold in the coming weeks.
Donal McCarthy, chief executive of Commercial Mushroom Producers (CMP), a producer organisation representing 90 per cent of the country's growers, says that there needs to be a 10-12 per cent increase in returns from the market to compensate for the collapse in sterling, if the sector is not to suffer further casualties. He points out that Ireland contributes 63,000 of the 180,000 tonnes of mushrooms sold in the UK every year, meaning a very real potential impact on supermarkets. "I'm very confident we can survive this, but we've taken some awful punishment," he tells FPJ. "The industry went into a nosedive after the referendum."
McCarthy – perhaps conscious about the impact of some alarmist headlines in both the British and Irish press prophesising the death of the Irish mushroom trade – points out that producers have done everything possible to strip out unnecessary cost in the chain over the past few months, as well as recovering some margin from other stakeholders such as composters and packers.
Nevertheless there needs to be movement in retail returns, and McCarthy believes supermarkets are starting to listen, while there has also been encouragement from recent price rises handed to a number of well-known branded food lines. "If we can get prices up I believe we will have a strong industry in Ireland," he insists. "I do believe there is a general acceptance in the British population that price inflation will be a factor."
It's not just in Ireland where producers are suffering. According to Paul Parmenter, senior commercial manager at Walsh Mushrooms, the fallout from Brexit and the introduction of the National Living Wage are proving hugely problematic. "The reduced returns in supplying the UK due to the fall in value of the pound is having a massive effect on growers," he says. "This is particularly felt by Irish growers [and] the cost of importing from the continent has risen. British growers are also feeling the pinch if they are importing compost, their biggest input, from the eurozone. This, together with wage increases, has seen their margin eroded."
If profitability can be restored, this is clearly a sector with a future. Volume sales at UK retail have been rising by a healthy five per cent, while a report last month by Zion Market Research predicted that global demand for mushrooms will soar over the next five years. The market is set to grow from $35.1 billion now to $59.5bn in 2021, with the rise in demand for healthy eating identified as the major driver of growth.
To that end, the market has seen some significant innovation this year in the shape of Monaghan-supplied vitamin D-enhanced mushrooms in Tesco, a product that injects something genuinely new into a market where it can be hard to be truly original.
And there's been no clearer signal of the potential that major businesses see in the market than multinational supplier Fyffes' acquisition of Canadian mushroom groups All Seasons Mushrooms and Highline Produce this year.
With an already loyal customer base – mushrooms are "a straightforward, versatile and easy-to-use ingredient that remain popular with over 81 per cent penetration in households", according to Parmenter – it is clear that there is a fertile market to tap into. How many businesses are around to take advantage of that trend will depend very much on what happens to prices over the coming weeks.