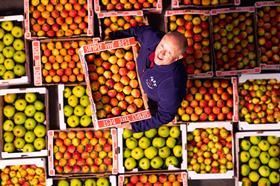 Traders at New Covent Garden Market in London are well stocked with seasonal British apples for British Food Fortnight, 18 September to 3 October, an annual campaign run by Love British Food to support domestic producers of high-quality food, the market authority reports.
Sarah Calcutt, non-executive director of the Covent Garden Market Authority (CGMA), which manages NCGM, is also operations director of British Apples & Pears. In her view, UK wholesale markets retain an extremely important role for British produce - and apple growers - in particular.
'You can promote your own brand and name through a wholesale market and its customers in a way that just isn't possible any more with the national supermarket chains, every single one of which has their own brand in the fresh produce aisle,' she said. 'By having a recognisable brand, you have the opportunity to connect directly with the people who eat your fruit, attract them to your website or social media channels and tell your own story. That is very valuable."

This year, British apples and pears are set to be more juicy than might normally be expected, because after warm weather early in the growing season, most orchards were hit by prolonged periods of wet weather, she added. "Our maritime climate is fantastic for the flavour of our apples. Raymond Blanc is one of our ambassadors and he eulogises about the flavour and is very happy to say that British apples taste better than apples from anywhere else.'
The British apple season officially launches on 4 October, marking the beginning of peak volumes arriving on the market.
However, there have been homegrown apples around since early August and during British Food Fortnight local greengrocers will no doubt be stocking one or more of the following varieties: Early Windsor, Red Windsor, Spartan, Cox, Gala, English Bramley and Scrumptious.
Lockdowns and health concerns have both led to British consumers buying more apples, Calcutt said. "The last 18 months have been extremely positive for apples.
"So many people have been buying less frequently and therefore the more perishable fruits have become slightly less attractive while apples, which will last that bit longer in your fruit bowl, have become more practical.
"There is also so much evidence out there now about how beneficial apples and pears are to gut health; they are also naturally fat free and keep you fuller for longer. An apple contains 77 calories, the equivalent of six crisps and if you swapped an apple for crisps every day for a month, you'd be eating 3,120 less calories," she says. "That type of information is changing people's purchasing habits too. It's said that if you change habits for three months, you have probably changed them for life, so a lot of the changes people made during the pandemic will stick for the long term."