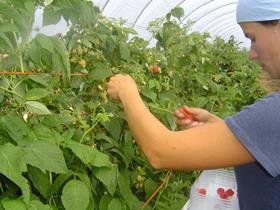 With British workers being encouraged to apply for jobs picking fresh produce, labour providers have joined forces in an urgent effort to fill positions on UK farms.
HOPS Labour Solutions, Concordia and Fruitful, which together form the Alliance of Ethical Labour Providers, are working together to fill a potentially huge shortage of pickers amid the coronavirus chaos.
So far the response has been great, with 9,500 applications received so far but the influx of workers will have to be sustained into the summer for farmers to ensure they can harvest their crops.
The application process
Applicants can fill out an application form on theHOPS website, stating their contact information, job experience, availability and where in the UK they'd like to work.
They are then invited for a video interview and subsequently receive an email within two to three days saying whether they've been successful.
Based on their interview and preferences applicants are allocated to a farm and a placement. Before starting, they are given information about the placement, the crops they'll be picking, the amenities at the farm and their accommodation if they've requested it.
Other job sites for pickers includeAngus Growers(which at the time of writing had over 1,700 jobs available),CDS LabourandTotal Jobs.
The scale of the problem
The NFU estimates that 60,000 to 70,000 seasonal workers are needed to pick Britain's fruit and vegetables each year.
In recent years there have been major labour shortages on British farms, and it has been a particular struggle since the Brexit referendum in 2016.
Now there are concerns of even more severe shortages due to travel restrictions and illness caused by coronavirus. The Country Land and Business Association calculated that the total shortfall in agricultural workers could reach 80,000.
The response so far
Since launching a joint recruitment drive last week, the Alliance of Ethical Labour Providers has been inundated with applications from British workers for picking jobs.
Some 9,500 applications have been received by the alliance so far but there is still a long way to go with a total of 60,000 workers needed for 90,000 placements. This takes into account the fact that some workers will complete several placements, moving from picking one product to harvesting another.
Unlike some other UK labour providers which employ pickers on an hourly basis, HOPS, Concordia and Fruitful all employ workers on contracts that last for the duration of their placement.
'We have received nearly 10,000 responses since we put the call out in conjunction with The National Federation of Young Farmers' Clubs (NFYFC) last week,' said HOPS director Sarah Boparan.
'HOPS is owned by NFYFC and we called on the YFC community to see if they would be willing to support farms, as well as opening up opportunities to anyone else interested in the work.'
Donna Holland, head of marketing and growth at Concordia, added:"There are huge numbers coming through, which is probably terrible for the people looking for jobs but great for UK farmers who desperately need the workers.
"We will continue to call out as it's not anywhere near what the UK farming industry needs. We are aiming to fill as many positions as we possibly can.
"We're usually operating in an environment where there is very low unemployment in the UK but that's not the case anymore so that's the reason we're having an influx of UK workers when we wouldn't normally.
"We're pleased to be able to support those people who have suddenly found themselves jobless by being able to offer them stable local employment."
According to Holland, some people are very specific about location and, understandably, lots of people want to stay and work in their local area.
Others are happy to travel anywhere in the UK and are more flexible in what they are willing to do. The vast majority have said they would be willing to go and live on a farm during their placement.
In terms of the crops that need to be picked, asparagus farmers require pickers to work now and into April. Then we move onto products such as cucumbers, broad beans and lettuce at the end of April, followed by soft fruit from May onwards.
"At the moment we have enough of a flow coming through," said Holland. "The problem could be in May when the first berries need picking. At the moment we've filled about ten per cent of those berry placements. We need soft fruit pickers all over the UK."