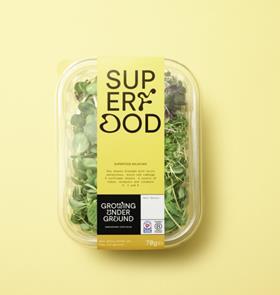 Growing Underground has launched new branding to coincide with its status as a B Corp salad brand.
The distinctive new brand is said to be based around a vertical design system inspired by the company's farming techniques, and features a bespoke 'growing' font and vibrant 'flavour-based' colour palette. New packaging is made of 100 per cent recycled, and recyclable, materials as the business works towards launching fully compostable packaging in the near future.
It comes as Growing Underground this month announced its status as a B Corp brand, making it the first B Corp salad brand available in mainstream UK supermarkets. Owner Zero Carbon Farms (ZCF) is the first certified B Corp vertical or controlled environment farm in the UK and Europe.
B Corporations are businesses that meet the highest standards of verified social and environmental performance, public transparency, and legal accountability to balance profit and purpose. Growing Underground points out that it boasts a fully net carbon negative growing system, meaning that it offsets more carbon than it emits.
To scale up its capabilities further, ZCF is currently undertaking a share offering, with over £4 million having been raised by early July, which will be used to expand into a second site in North London this summer.
"Growing Underground continues to grow in every sense," said Richard Ballard, co-founder at Growing Underground. "We're looking forward to translating our carefully crafted model and sustainability credentials into an industrial-scale distribution network, accelerating the world's transition to carbon-negative farming and continuing to transform the future of sustainable food production in the UK."
Among the 1,700 investors in ZCF are strategic partners such as G's Fresh, Reynolds, the former UK managing director of Florette, and chef Michel Roux Jr.
Reynolds tieup
In a busy period for the business Growing Underground also revealed it has formed a strategic partnership with foodservice supplier Reynolds, allowing the brand to distribute nationally.
"The Growing Underground model reduces food miles and cuts down the time between harvesting the produce and delivering it, allowing us to offer a better-tasting, more nutritious and sustainably grown product to our customers," said Tony Reynolds, managing director at Reynolds.