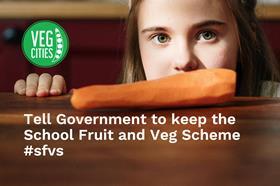 Food and farming campaign group Sustain has launched a petition campaign urging the government to reinstate the School Fruit and Vegetable Scheme.
The government scheme provided free fruit and vegetables to two million children from 16,000 state schools across the country, at Reception and Year One levels.
Yet parents began reporting that students were no longer receiving their free fruit and veg during meal times, after the government seemingly dropped it without notice.
The government has since clarified that it halted the scheme due to waste issues, as the majority of schoolchildren remain at home due to coronavirus social distancing measures.
But despite repeated questions during parliamentary debates, and numerous parents raising concerns about the loss of the scheme, the government has yet to confirm it will return in time for children starting school in September.
Anyone can sign Sustain's petition with an email sent to the government for each signature.
"The School Fruit and Vegetable Scheme offers 2.3 Million children aged 4 to 6 attending state-funded primary schools in England a free piece of fruit or vegetable each school day. The scheme was suspended in March and despite many Reception and Year 1 children being back in school since June, the scheme has not been reinstated," Sustain's campaign states.
"This is an injustice to children, parents and farmers alike. 90 percent of children are missing their 5-a-day and consumption has lowered even further during lockdown, especially among children from poorer backgrounds. At the same time, there is surplus fruit and veg destined for the hospitality industry."
Sustain has also written a joint letter with the Soil Association to the Secretary of State for Health, Secretary of State for Education and Schools Minister on the matter.
Anger at the removal of the scheme comes after the government u-turned on its decision to stop free school meals, following a campaign by Manchester United striker Marcus Rashford.
A government spokesperson said: "The School Fruit and Vegetable Scheme has been paused so as little fresh produce goes to waste as possible while we work to bring more children back to school.
"Funding which would have been spent on the scheme is being used to support the NHS and other priorities during the pandemic."