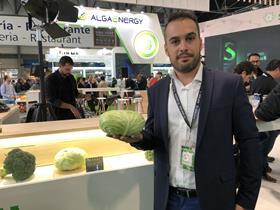 Japanese seed company Sakata is looking to boost brassica consumption in Spain with a new sweet-tasting, flat cabbage that lends itself well to salads.
The smooth, white variety, known as Felicity, was launched two years ago in the traditional cabbage markets of Germany, the Netherlands and Eastern Europe, and now Sakata is looking to drive up sales of Felicity in Spain and Portugal, where cabbage consumption is comparatively low.
It can be produced year round in Spain, where the bulk of production currently takes place.
"Our main goal is to increase consumption of brassicas and in Spain it is quite low, not just in cabbage, but also in cauliflower and broccoli," said Sakata's brassicas product promoter Antonio Ibarra at Fruit Attraction in Madrid.
"It's easier to do this with great-tasting varieties like Felicity and Bimi [which was also bred by Sakata], especially among young people, and there are many health benefits such as Felicity's high level of vitamin C.
"Cabbage used to be bitter and not very well suited to being eaten fresh, but Felicity is very sweet and has a fantastic taste."
The delicate and crunchy variety is higher in sucrose, fructose and glucose than other cabbage varieties on the market, giving it a sweeter flavour. And according to independent taste tests carried out by Spanish researcher Consumolab shoppers would be 10 per cent more likely to buy a bag of mixed salad that contains 30 per cent of Felicity than one without it.
Going forward, Ibarra said Sakata is also targeting producers in the UK, where brassica consumption is considerably higher than in Spain. "Last year we trialled production in the UK, and in the summer it is possible to produce it to the same quality or better than here," he said.
Recognising the flavour, shape and versatility of the variety – which can be eaten in salads and various other raw dishes – Fruit Attraction listed Felicity in its 2019 Innovation Hub.