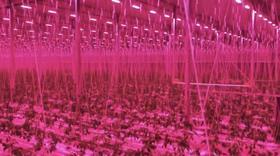 Glasshouse grower Flavourfresh Salads has installed an 8,000sq m lighting system to help it grow thousands more UK tomatoes during the winter.
The project, carried out by facilities specialist CambridgeHOK, was completed in eight weeks from placement of order to the lights being operational, and means the company can now meet customer orders out of the natural tomato growing season, between November and February, from its Melrow site in Southport, Lancashire.
The new Philips lighting system by Signify is said to ensure that a perfect environment for growing tomatoes will be provided. The system automatically starts if the amount of natural light flowing in the glasshouse falls below the level required.
The project saw the CambridgeHOK team complete an upgrade of the electrical transformer on site and connect the new LED lighting to the onsite Combined Heat and Power (CHP) system, ensuring the most efficient-energy performance while minimising greenhouse energy waste.
Tim Haworth, commercial manager at CambridgeHOK, said: "We have been delighted to work with Flavourfresh on this project, given it is one of the leading British commercial growers and is a company completely dedicated to growing the highest-quality produce. It is a business which is dedicated to continuously developing its growing systems and technologies and this sophisticated LED lighting system, which has around 1,000 LED lights in total, will deliver significant benefits.
"It is a sophisticated system which ensures the lights kick in to action whenever they are needed, such as on a particularly gloomy day with limited sunlight. Most importantly, it will allow this particular site to become a year-round tomato growing facility, as tomato production had previously had to stop at this site during the winter months.
"This investment means they can now continue supplying their client, a leading UK retailer, between November and February with the highest-quality, home-grown produce, rather than having to source it from overseas, with the current growing crop expected to be in the shops for Christmas.
"As we are a Philips Horti-partner for LED lights, we have worked closely with Philips on many installations in glasshouses and as a result can now offer and ultra-efficient service, completing this project within eight weeks to ensure it was up and running on time for the customer, even in these challenging times."