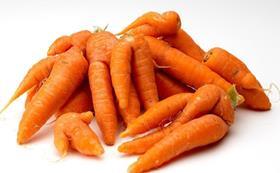 Wonky or 'out-of-date' fruit and veg is being donated to a new London restaurant that is using only produce that would otherwise have been wasted.
Tiny Leaf, in Notting Hill, west London, said it is the first of its kind in the capital and aims to provide a blueprint for zero-waste restaurants. Aside from salvaging wonky produce, Tiny Leaf also uses reclaimed furniture, a living wall of botanicals, composts coffee waste, uses apps to share leftovers, donates extra food to a community kitchen and hosts talks by waste pioneers, the Evening Standard reported.
Dishes include chargrilled celeriac and broccoli steaks with baba ghanoush, and baked Moroccan tagine. All food is donated by Langridge Organic Products, Planet Organic, Whole World Water, Wild Country Organics and Riverford Farms.
Horne said: "We would like to change the way the industry works and the way they use food waste." The UK is one of the worst offenders in Europe for wasting food."
Tiny Leaf was founded by former restaurant manager of celebrity haunt Chiltern Firehouse, Justin Horne, along with Jonathan Krauss and Alice Gilsenen.