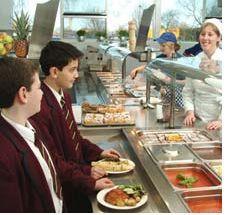 A new healthy eating campaign for schools is offering to train school cooks how to prepare veggie meals by plant-based chefs.
ProVeg UK's campaign tagged "School Plates" aims to make "five small changes" to children's lunch menus to increase their intake of healthier plant-based foods.
They will be working with local authorities, schools and catering companies, offering chefs, nutritionists and even scientists to measure the climate emissions savings the switch to more vegetables will create, all for free.
Director of ProVeg UK, Jimmy Pierson, said the campaign would also help schools meet their budgets in a time of cuts.
"Plant-based foods are mostly cheaper, and that is great news for schools whose budgets are tightening. They're healthy and good for pupils in both the short and long-term as well as helping the environment and therefore protecting the future for everyone. We call this a win-win-win-win.
"We're starting with relatively minor, easy-to-implement tweaks, but these can make a big difference in so many ways. Schools can deliver these benefits by simply offering a bean burger over a beef burger, or a cassoulet over a casserole - and we can help them every step of the way."
ProVeg UK received backing from Tesco for their campaign, with Derek Sarno chef and director of plant-based innovation for the retailer adding: "Food is powerful, empowering, and over time can promote or destroy good health in both our bodies and the environment. I make plants the centre of every meal, and I think the five recommendations in ProVeg UK's campaign are a great starting point."