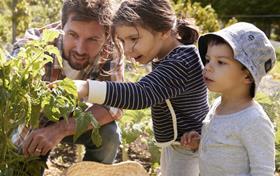 Global seed-breeding company CN Seeds has announced its support for a new seed donation project designed to improve mental, physical and social wellbeing through gardening.
The long-established family business is supplying surplus seeds to Cultivating Change, a UK initiative providing seeds to organisations such as retirement homes, businesses, schools and other individuals.
The project is run by Sally Nye, the wife of CN Seeds MD Dan Nye, who has herself struggled with physical and mental health after years of chronic pain and several back surgeries.
"Recognising the importance of being outdoors and innature as a pathway for recovery, Sallyaims to build Cultivating Change into a supportive virtual community platform," the Cultivating Change website reads.
Dan Nye, managing director of CN Seeds, said: "We regularly have surplus seed that we wanted to distribute in a sustainable way, in reflection of our business values.
"Cultivating Change is a fabulous support scheme, connecting people with gardening to benefit from sowing, growing, reaping and eating their own crops, especially beneficial at this testing time for us all.
"The fit was perfect because we have a culture of innovation throughout the company and Cultivating Change is a truly innovative scheme."
He added that it is the first time a seed company has supported a consumer-facing initiative "in such a direct way".
Seeds will be packaged and distributed from CN Seeds' site in Cambridgeshire to organisations across the UK, which can apply to take part through theCultivating Change website.
CN Seeds specialises in seed for herbs, baby leaf salads, oriental vegetables and microgreens, shipping to horticulture growers around the world. Some 65 per cent of its production is for export.