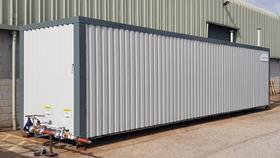 A UK tech company has designed a steam steriliser in a shipping container to tackle the spread of Tomato Brown Rugose Fruit Virus.
CambridgeHOK's new sterilising technology will help fight back against ToBRFV after it was first identified in Isreal in 2014, and has since spread to Europe, east Asia and the USA.
In July the first case of the virus was reported in the UK, with the affected glasshouse having to eradicate the virus by destroying its crop.
CambridgeHOK's technology puts all packaging, plant trays, crates and other equipment used in tomato production through 95 degree steam for five minutes, to ensure the virus cannot spread.
British glasshouse specialists APS Group has already enlisted the services of CambridgeHOK to prevent contamination on their sites.
Ross Hibbs, commercial director of Cambridge HOK, said: "ToBRFV is a huge problem for tomato growers. It has the potential to devastate crops very quickly and it can remain in leaf debris, seeds and soil for months, meaning it is incredibly difficult to get rid of.
"It is easily passed between glasshouses and between sites, so unsurprisingly, producers are keen to develop new solutions that will effectively control the virus.
"By working closely with the company to understand the virus and its effects, we have created a sterilising unit which is helping them to control ToBRFV and protect their crops."
ToBRFV can quickly render whole tomato crops unmarketable as infected fruit develop chlorotic marbling and brown rugose patches. Once the symptoms are detected the grower has no options but to destroy the crop in a bid to contain the outbreak.
Phil Pearson, group development director at APS Group said: "APS Produce has invested in a number of steam sterilising systems across their UK Nurseries, to ensure that any packaging entering their tomato glasshouses is virus free.
"Each of the steam treatment units, supplied by CambridgeHOK, allow us to sterilise 26 pallets of returnable trays per session, in under an hour, including loading and unloading.
"Cooking the trays, and any other products used in the glasshouse in this way, is a safe way to prevent any possible ToBRFV carryover between packhouses, and the crop."