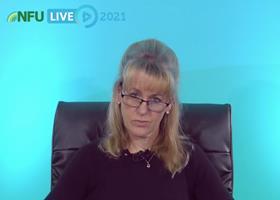 'Levelling up' rural Britain can create jobs, boost green economic growth, increase exports and improve the nation's wellbeing, according to a new report from the NFU.
Launched at the NFU's annual conference on 23 February, the report,Levelling up rural Britain, highlights how British farming and rural Britain can provide the solution to many of the challenges the nation faces by driving sustainable food production and pioneering food policy that produces carbon-neutral food.
The report says no one should be disadvantaged by where they live or where their business is based.It highlights several areas where the rural and urban divide continues to grow, including broadband and connectivity, rural crime, planning restrictions and government investment.
In her speech to NFU Live 2021, NFU president Minette Batters said:"Investment in farming and in rural Britain not only brings about obvious benefits to food production but can have massive benefits to the whole country.
"Levelling up Britain is not just a north and south issue. Levelling up Britain is also a rural and urban issue. We need to enable collaborative green growth to level up rural Britain, providing the economic solutions to a truly one-nation UK.
"Rural Britain can deliver jobs, green growth, exports and wellbeing for a nation in recovery."
Focusing on food security and a renewed appreciation for our supply chains during the pandemic, she added:"We must never go back to a time when we became complacentaboutourfood, where we assumed allfoodisproducedtothe same standards of safety and quality around the world – andwherewejust expectedfoodtoalways bethere,withoutinvestingintheindustryand thepeoplewhoproduceit."
A survey last yearshowed that 86 per cent of British people believe Britain should growmoreofitsownfood, but Batters warned there is "a genuine risk that, without care, withoutattention, we let Britain's food production slowly erode'.
She stressed that it is critical thegovernmentmonitorsfood security by keeping track ofthe amount of food produced on British farms.Itwas one of the NFU's key asks realised in the Agriculture Billthat food security should be reported on in 2021 and every three years thereafter.