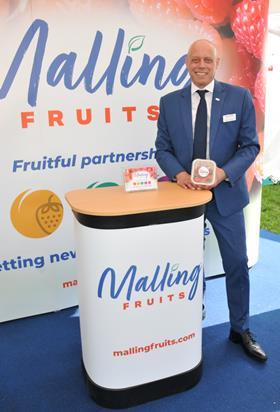 UK horticulture research institute NIAB EMR has launched 'Malling Fruits', a brand to promote the portfolio of top, soft and stone fruit varieties bred at the East Malling site in Kent.
It aims to set the highest quality standards of new varieties demanded by industry today and ensure a stronger UK fruit industry by growing fruit that is popular with growers and consumers alike, NiAB said.

The name Malling is synonymous varieties that have set new industry standards, from globally successful apple rootstocks and raspberry varieties, through to the strawberry Malling Centenary, launched in 2013, which has since become the industry standard June-bearer strawberry now selling more than 70 million plants a year.

Mario Caccamo, managing director of NIAB EMR, said: "Malling Fruits connects us to the strength of our 100-year heritage while at the same time links industry to the quality on offer of current and future leading varieties."

"We are in the right place at the right time to build on the commercial success of varieties such as Malling Centenary and Malling Bella which will support and sustain the wider undertaken at NIAB EMR to breed new varieties, reduce pests and diseases, and improve fruit production and storage."

In addition to the historical portfolio of apple, raspberry, cherry, strawberry and rootstock varieties, the first new varieties to be promoted through 'Malling Fruits' will be a new ever-bearer strawberry, MallingTM Ace and the June-bearer MallingTM Vitality.

'Malling Fruits' will bring together NIAB EMR's scientists with the well-established industry-led partnerships which have funded a number of breeding programmes at East Malling.

Malling Fruits was launched by Mario Caccamo, NIAB EMR's strawberry breeder Adam Whitehouse and Mayor of Tonbridge & Malling Borough Council, Cllr Roger Roud at Fruit Focus, the fruit industry's leading event, held at NIAB EMR on 21 July.