Planting at New Covent Garden Market by the Fruiterers Livery Company will provide natural habitat for rare butterfly species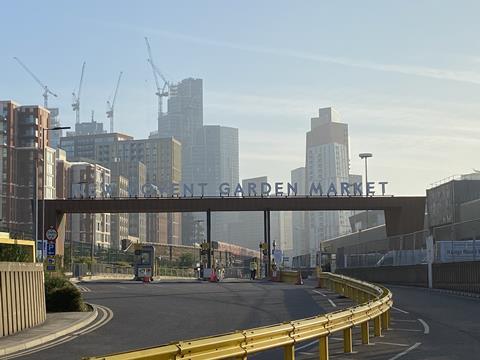 The Worshipful Company of Fruiterers has planted a symbolic nine elms in the London area of Nine Elms, to mark a visit by its liverymen to New Covent Garden Market.
The trees were planted on a rewilding site to be known as the Butterfly Garden close to the entrance of the UK's largest wholesale market for fruit, vegetables and flowers.
They will not only add to the diversity and sustainability of the environment in Nine Elms, London's newest district situated on the south bank of the River Thames between Vauxhall and Battersea, but will also eventually play their natural role as host trees in the breeding cycle of one of the country's threatened butterflies, the White-letter Hairstreak.
The elms were propagated and grown in Worcestershire, by Frank P Matthews, one of the largest tree-growing nurseries in the UK, which supplies elms across the country, primarily to conservation groups.
Managing director Nick Dunn said: "Elms were such an important part of the UK landscape in years past. Dutch Elm Disease (DED) was devastating for elms here in the 60s and 70s and consequently, a number of breeding programmes were established in Europe to develop a high degree of resistance to the disease."
Many of these hybrids have been extremely successful, according to Dunn. "Our nursery has propagated two of these varieties, both of which are highly resistant to DED now and we believe they will continue to be resistant.
"Both of them – 'Nanguen' (selling name LUTЀCE) and Wingham – will be planted in Nine Elms. There have been a lot of new elms planted in the UK in recent years, but not that many in London and of course, it's particularly apt that we can plant nine elms in Nine Elms."
Both Wingham and Nanguen are known to host the WLH butterfly, which was also threatened as a species by DED.
The discovery of the White-letter Hairstreak on Nanguen was significant as the tree has a very different periodicity from the reputedly favourite native host, wych elm, suggesting the insect is adaptable and could breed on other high-resistance cultivars.
Hampshire butterfly conservationist Andrew Brookes said the planting in Nine Elms adds to others in the local area, as 'New Horizon' elms at Vauxhall Pleasure Gardens host the White-letter Hairstreak, as do wych elms at Battersea Park and, across the river, at Middle Temple Gardens.
There are also nine elms once more on nearby Nine Elms Lane opposite the US Embassy after Wandsworth Council planted two young elms to replace the missing two, back in January 2019.
Laurence Olins, Master of the Worshipful Company of Fruiterers, who made the ceremonial planting of the ninth elm at New Covent Garden Market on 22 June said the livery company was delighted to be making such a relevant and potentially momentous donation to the country's largest horticultural wholesale market.
"This Market has been central to the food supply chain in London for more than 800 years and it was where I cut my own teeth in the fruit and vegetable industry," said Olins.
"It now lies at the heart of London's newest district and is being redeveloped to retain its position a long way into the future and there could be nowhere more appropriate than here for us to plant these trees and hopefully restore a lost butterfly population in central London.
"As fruit and vegetable specialists, we understand the vital role that insects play in the sustainability of our production environments."