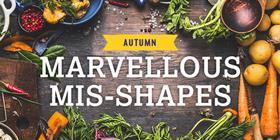 Convenience retailer Nisa is launching a wonky veg promotion for the next fortnight to help cut food waste.
The promotion, dubbed "Marvellous Mis-shapes" starts today and runs until the 8thOctober. It features a range of misshaped autumnal root veg and fresh produce from the Co-op brand range. The Co-op bought Nisa in 2017 for £143million.
Research shows that sales of wonky veg tripled in the UK from 2017 to 2018, suggesting shoppers are keen on the concept.
Nisa's wholesale category controller for fresh produce, Josie Bates, said: "The Co-op has seen great success from the Marvellous Mis-shapes line and we're proud to get on board with the topical initiative, which gives independent retailers the ability to make an impact in the war of food waste."
"Many supermarkets now offer some form of "wonky veg" and we are confident that offering shoppers these products at their local convenience store at a competitive price will result in increased sales for our partners."
Available from the misshapen range are Co-op Marvellous Mis-shapes Potatoes (90p), Co-op Marvellous Mis-shapes Carrots and Parsnips (59p each), and Co-op Marvellous Mis-shapes Brown Onions (49p).