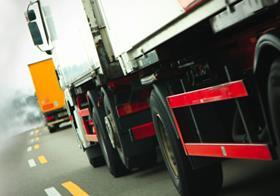 Liquid nitrogen engines are being touted as a "quick-fix" solution to air pollution caused by refrigerated transport by allowing produce suppliers to create a zero-emissions fleet.
The engines, created by technology firm Dearman, use liquid nitrogen to both cool produce and power the vehicle. Existing models in the market have trialled the use of nitrogren as a cooling agent, but no system has so far used the gas to power and cool simultaneously, Dearman said.
They are designed to replace typical diesel engine units on large HGVs and supermarket home delivery lorries, but can also be used in commercial refrigeration units or office cooling systems.
Operators can either retrofit existing diesel-run vehicles, or invest in liquid nitrogen engines for new vehicles. As a by-product of the industrial gas sector, the infrastructure to provide liquid nitrogen is already in place and it is described as cheaper than traditional fuel.
Dearman is also targeting countries, such as India and China, which are rapidly developing their cold chain in order to tackle the "environmental challenge" caused by more vehicles on the road.
A report commissioned by the firm found that due to changing demographics, particularly in Asia, the number of refrigerated vehicles on the road could reach 15.5 million by 2025, up from less than three million in 2013.
"The potential growth of the global transport refrigeration fleet is frightening. In order to reduce food loss, meet growing middle class demand and address hunger, it's obvious that more comprehensive cold chains are needed," said Dearman's senior group managing director, Toby Peters.
"Our report demonstrates that the industry could experience extremely rapid growth and we must be prepared. If we aren't, and if we allow growth to happen using yesterday's technology rather than tomorrow's, then the air quality and climate change implications would be very significant and extremely damaging."
Pawanexh Kohli, CEO of India's national centre for cold-chain development, said: "The need to develop cold-chain connectivity is, if anything, more important in India than elsewhere. India is the single largest concentration of vegetarians and cold-chain is the only viable mode of delivering fresh foods to our consumers, the bridge between farms and consumers over vast distances."
The technology will be trialled through an official commercial partner in the UK later this year.