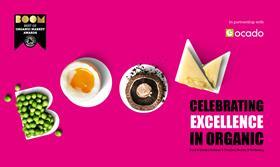 The chance to supply Ocado is the top prize at the Soil Association's 2021 Best of Organic Market (BOOM) Awards, which will open for entries on 1 December.
Back for the fourth year, the BOOMs (Best of Organic Market) are expanding to celebrate excellence across organic farming, beauty and wellbeing, fashion and textiles, and food and drink, reflecting the full range of organic-certified businesses.
Ocado, which stocks the largest range of organic products in the UK is partnering as the headline sponsor of the awards. The online retailer is offering an "exclusive benefits package" to the whoever lands the WOW (Winner of Winners) award.
Judging will take place in spring 2021, with the awards ceremony taking place in summer.
Ocado buying director Rose Price said:"Organic has always been an important part of the Ocado range, so we're thrilled to be partnering with Soil Association Certification for the 2021 BOOM awards. Our customers can find the largest online range of organic products in the UK, so we're excited to find and celebrate new and existing suppliers.
"The 'Winner of Winners' will be offered a listing on Ocado if they are not already a supplier plus, a package of exclusive benefits including marketing and social support. We're looking forward to championing their organic products with our highly engaged customers."
Entry to the BOOMs is open to all certified organic businesses from 1 December. For 2021, entry is free for any small Soil Association-certified businesseswith sales under £250,000. Producers are limited to two entries each.
Clare McDermott, business development director for Soil Association Certification, said:"2020 has seen organic brands, retailers and businesses highlight the crucial importance of producing food in a way that works with nature to protect soil, encourage wildlife and help tackle the climate crisis, all while demonstrating amazing innovation, even in the face of huge disruptions and challenges."
This year has seen the acceleration of a decade of growth in the UK organic market, with new Nielsen market data revealing that the organic market has reached its highest growth level in over 10 years, with buoyant growth of 9.5 per cent for the past 12 months. This includes strong growth during the Covid-19 crisis.The market is now on track to reach £2.6bn by end of 2020.
The Soil Association said the BOOM Awards are "an opportunity for organic businesses to showcase their products and initiatives, celebrate success, generate media coverage and increase sales and listings."
The Ocado listing is subject to havingthe retailer's required accreditations to satisfy food tech and the mutual agreement of commercial terms.