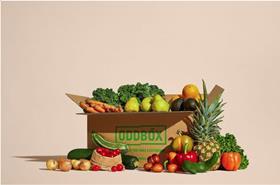 Oddbox, the UK's food-waste-fighting fruit & veg box subscription service, has selected PodFather's fleet management and electronic proof of delivery solution to optimise plans across its rapidly expanding operation.
With a fleet of 50 vehicles operating out of soon to be two depots, the Oddbox team is currently delivering fruit and vegetable boxes to over 40,000 customers located across London and the South East of England.
Having reviewed the software options the market had to offer, the Oddbox team said they were impressed by PodFather's breadth of functionality, ease of integration and professional approach to tackling their planning challenges.
Oddbox, food-waste-fighting fruit & veg box delivery scheme, is responsible for rescuing over 6,440 tonnes of surplus fruit and vegetables directly from farms since 2016.
Products are collected, checked, and packaged up ready for delivery to customer homes across London and the South East of England.
"Customer experience is absolutely key for us, so at a time when order volumes are increasing it was important for us to get the right software solution in place to help us manage our operation," said Drew Hutchinson, logistics and supply chain co-ordinator at Oddbox. "PodFather's reputation within the food delivery industry, plus its ease of use and integration capability made it the obvious choice and we look forward to working with the team on the swift roll out of our new ePOD solution."
The Oddbox team will use PodFather to plan collect vehicle checks, track deliveries, issue customer ETA notifications and collect electronic proof of delivery information. All drivers will be issued with a rugged handheld, on which will run the PodFather app. Drivers will use the app to log vehicle checks, share information with the transport team in real time and capture proof of delivery photographs which are issued customers; handy for those receiving night-time deliveries.
"We are delighted to welcome Oddbox to the growing list of food companies looking to optimise their home delivery operations with PODFather," said Colin McCreadie, managing director at PodFather.
"This year, more than any other in our history, we've seen huge uptake in home delivery companies looking for a reliable solution to help them tackle their planning challenges. If you are a home delivery operator looking for a solution, or a wholesale company looking to launch a home delivery service, be sure to give us a call."