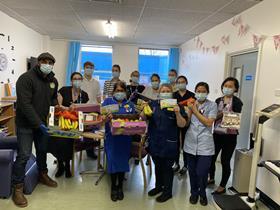 A Cambridge greengrocer has managed to stay afloat by switching from office orders to delivering donated veg boxes to those affected by coronavirus.
When offices across the country started to close their doors in early March, Neil Bharadwa of The Cambridge Fruit Company quickly saw his business dry up.
But thanks to the generosity of customers and strangers in different countries Bharadwa was able to remodel and rebuild his business, Cambridgeshire Livereported.
After posting about his progress on Twitter, one of his followers in New York contacted him to say he'd ordered five large fruit and veg boxes but wanted them to be sent to the elderly and needy.
Hundreds of similar donated orders followed, from customers as far away as New Zealand, and the greengrocer now has been making more than 200 deliveries a day, according toCambridgeshire Live.
Among others, it has been delivering to NHS hospitals and vulnerable children and their families through local charity The Red Hen Project.
Many of Bharadwa'soffice clients, instead of cancelling their orders, have instead asked for the boxes to be delivered to their employees working from home or sent to NHS workers.