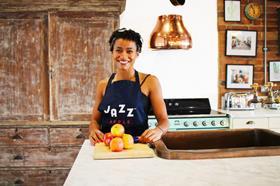 Jazz apples has announced a partnership with Team GB long jumper Jazmin Sawyers to inspire people of all ages and abilities to take to the track and field again following Covid-19.
The signing of Sawyers follows a recent trend for the brand to sign up British sports stars with the apple's name in theirs, and follows the recruitment of swimmer Jazz Carlin earlier this month.
Track and field athlete Sawyers was a silver medallist in the 2014 Commonwealth Games, a Team GB member at the 2018 Rio Olympics, and has also competed as a heptathlete and a bobsledder in the past.
She has also completed a law degree at Bristol University and was a participant on ITV's The Voice in 2017.Born in Stoke-on-Trent, Sawyers now splits her time training between Loughborough and Florida and has her sights set on the postponed Tokyo 2020 Olympics, which will now take place next year.
According to the apple brand, the aim of the partnership isto boost the profile of athletics and get more people involved in the sport, while also providing expert advice and tips from Sawyers on what it takes to be the best.
Sawyers said: "It means so much to me to be part of the Jazz Apple family and I'm so happy to be on board. It really fits with everything I'm trying to promote – a healthy and energetic lifestyle – and apples are a core part of not just mine but most people's daily diet. And most importantly, as a brand, Jazz Apple are trying to get more people active and into sport, which I am also extremely passionate about."
Victoria Cliff, marketing manager at Worldwide Fruit, added: "We're delighted to welcome Jazz to the team and are thrilled to be working with such a high-profile and multi-talented sport star on our mission to get more people up and down the country involved in athletics and sport in general.
'Many people's usual health and fitness regimes have been turned upside recently down due to Covid-19 so we're looking forward to working alongside Jazz to encourage more people to participate in sport and exercise. Jazz knows first hand what it takes to be a top athlete and has experienced both the highs and lows in athletics so is the perfect person to offer advice to those looking to take up the sport."