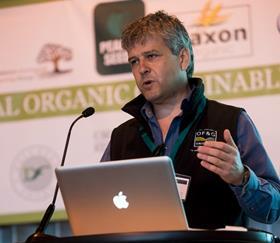 Leading UK organic land certifier Organic Farmers & Growers has expressed bewilderment at the launch of Defra's Path to Sustainable Farming 2021-2024.
"We welcome a transition to more sustainable farming principles," said Roger Kerr, chief executive at OF&G. "And we're fully behind the 'better, fairer farming systems that deliver more for the environment' that the secretary of state has outlined. But this currently looks like a roadmap to nowhere.'
Kerr said there is a 'glaring hole in the government's strategy' as it fails to include organic in any Environmental Land Management (ELM) proposal or pilot scheme, as well as 'lacking any financial detail for farmers to plan their business strategies for when the ELM scheme begins in a little over three years' time.'
He continued: "Defra outlines the need for 'sustainably grown, healthy food produced profitably without subsidy, while taking steps to improve the environment, improve animal health and welfare, and reduce carbon emissions. Yet if government truly wants to fulfil these objectives, organic must be properly recognised for its role in delivering against those targets."
Kerr stressed that many of the principles of organic are highlighted as advantageous within the transition plan. 'However, it appears the government is proposing a 'pick and mix' approach of the environmental features, without acknowledging the integrated and holistic benefits of organic systems.
"There's undoubtedly a need for a new way forward given the dire state of our agricultural land and rural communities. The current system isn't working but simply cherry-picking specific elements of 'environmentally-friendly' food production isn't going to address the multiple, complex and serious challenges we face.'
OF&G said there is clear demand for organic food and systems that underwrite its production. It pointed out that consumer demand has increased by over 9 per cent so far this year (compared with around 5 per cent last year), with 13 per cent growth in organic sales in September alone compared with the same period last year.
"Organic opens access to new food supply chains, improved farm biodiversity and reduced reliance on inputs with the resultant release in working capital,' Kerr continued. 'Additionally, the integrated approach organic farmers use helps protect natural habitats and wildlife populations, as well as reducing risks of negative impacts on air, water and soil quality.
"Defra has been planning this transition for four years and yet the migration process remains hazy at best. It's still unclear how payments will reward farmers for their environmental input. It's time for government to recognise the diversity of approaches to food production and ensure organic farmers and growers are financially recognised for the proven value and multiple benefits they provide as part of this new 'better, fairer farming system'.'