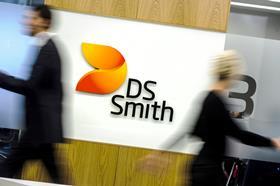 Packaging giant DS Smith has brought all of its operations and businesses together as part of an identity and brand overhaul.

The move comes 18 months after DS Smith acquired Swedish rival SCA Packaging to secure a 14 per cent share of the European packaging market.
The firm,which works with fresh produce companies and also runs paper, plastics and recycling businesses,has operations in more than 20 countries, employs around 22,000 people, and has a turnover of £3.7 billion.

Group chief executive Miles Roberts said: "DS Smith has gone through a major transformation in the last few years. We are now able to offer a much wider product and service portfolio and operate on a much larger scale as a strategic partner with cross-industry expertise, while at the same time continuing to offer our customers a local, personal service.

"Our recent acquisitions have enabled us to make significant progress in the highly competitive European packaging market, and have helped with the integration of our European and UK businesses.'

He added: "Bringing together our packaging, paper, plastics and recycling operations together means we can offer customers a complete service from design and production, right through to supply and recycling. The decision to bring all our operations under one clear strong brand was the natural next step for us."

As part of the repositioning, DS Smith also launched its revamped website - at www.dssmith.com - this morning.