P&O Ferries to strengthen key trade link between Belgium and the UK with new sailings
P&O Ferries announced yesterday (21 February) that it is joining forces with Finnlines to boost the flow of trade between Belgium and the UK by introducing new sailings on the Zeebrugge-Teesport route.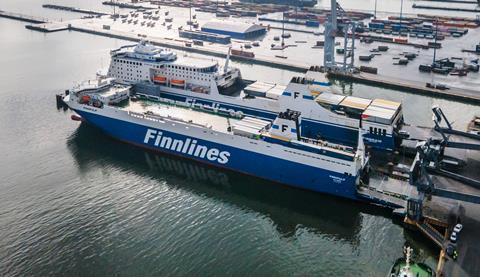 In response to increased customer demand, P&O Ferries will charter Finnlines' MS Finnpulp for three days a week under a new services agreement.
This move will increase the overall number of P&O Ferries sailings to six and give customers more options on the key trading route between Britain and the Continent, P&O Ferries said.
P&O Ferries chief executive Peter Hebblethwaite said: "We are delighted to announce that in cooperation with Finnlines we will support the UK and European economies by increasing freight capacity and strengthening resilience on the key Teesport-Zeebrugge route. This expansion of our services in response to what our customers are telling us the want demonstrates our commitment to providing vitally important trade routes for UK exporters and trading partners."
Tom Pippingskold, president and CEO of Finnlines Plc, added: "We have have been pleased by our partnership in Zeebrugge since September 2021 and are delighted to strengthen it further by this contract. We are confident this will be a new and successful milestone for Finnlines adn P&O Ferries cooperation in the North Sea."
From 28 February, the new sailings will operate from Tuesdays to Thursdays, ensuring that freight customers will have an increased level of capacity during the midweek peak. MS Finpulp has a capacity for 3,259 lane metres of cargo, equivalent to around 225 trailers.
On its return to Zeebrugge, the vessel will be discharged and loaded for Finnlines' service between Zeebrugge and Rosslare, Ireland. P&O Ferries will also provide stevedoring and ship handling services for Finnlines' Zeebrugge to Rosslare route as part of the freight services partnership.