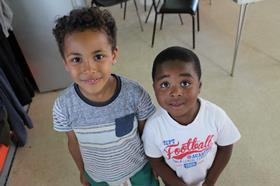 Pink Lady extended its partnership with FareShare to help combat hunger over the Christmas period.
The fresh produce brand leader donated over 40,000 Pink Lady apples, which were distributed as part of FareShare's Christmas Appeal. An original donation of just over 20,000 apples was matched with a further 20,000 from Kent-based importer Total WorldFresh, helping support more families in need this Christmas.
The Christmas appeal aimed to combat hunger and malnutrition among children and families over the festive period. FareShare takes donated and surplus produce from the food industry and redistributes it to charities across the UK.
Pink Lady also announced that its support of FareShare has been extended to its latest lifestyle campaign, which saw the brand team up with illustrator Abigail Burch to create a series of limited-edition art prints inspired by Pink Lady apples. The 30 prints are on sale for £20 each, with Pink Lady apples matching the sale of each print with a £20 donation to FareShare.
Joanna Dyson, head of food at FareShare, said: "Christmas is always an incredibly challenging time of year for vulnerable children and families, particularly following the outbreak of the pandemic, which has presented a multitude of difficulties for millions of us across the UK.
"Top-quality fresh fruit is particularly valuable as we are committed to providing as much nutritious, healthy food as possible for the children and families supported by FareShare's network of 11,000 charities. With many people facing financial struggles and food insecurity over the festive season, this donation from Pink Lady and their partners will make a big difference to the communities we support."
Kyla Flynn, PR and social manager for Pink Lady, added: "We are thrilled to be extending our partnership with FareShare to help families in need this Christmas. We were delighted to hear how our donation to the Summer Appeal made a difference to those who received our apples, so we felt passionate about extending our support to help more people experiencing food poverty over the festive period. As a brand, we firmly believe that every child and family should be entitled to a happy and healthy Christmas and start to the New Year, so we're pleased to be able to support FareShare in this effort.
"This donation would not have been possible without the hard work and support of our Pink Lady family in Europe, and of course the match donation provided by our dedicated UK licensee, Total WorldFresh. Thanks to everyone involved, we have collectively been able to source and provide over 40,500 Pink Lady apples so we can assist even more families in need this Christmas."