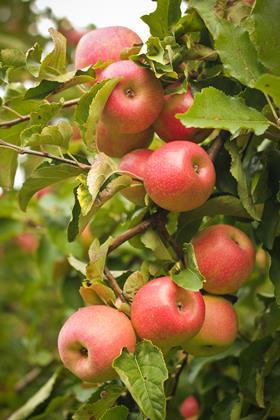 Travel might still be restricted, but Pink Lady apples has developed a new promotion to mark their Northern Hemisphere season, designed to delight consumers and bring them closer to the sun-drenched orchards in France, where much of the crop is grown.

The UK's leading apple brand will be offering 500 Aldi shoppers the chance to adopt a tree, with one lucky winner receiving a trip to visit the orchards in Nantes, France, to harvest Pink Lady apples from a tree grown and cared for in their name.
Pink Lady grower Thierry Bonnifait will be nurturing the trees from his family-run, eco-friendly orchard which spans 54 hectares and offers ideal soil and climate conditions for apple production.

Each runner-up from the competition will receive a Pink Lady goodie bag and will be transported to the apple groves with updates on their dedicated tree as the blossom bursts, summer begins, and fruit begins to form on the branches.

Inspired by the Adopt a Tree competition run by Pink Lady Europe, the UK promotion will be featured on every pack of Pink Lady apples in Aldi for two weeks from 5 April. Consumers can be in with the chance of winning by entering the competition on the Pink Lady website via instructions communicated on the on-pack sticker.

Pink Lady UK trade marketing manager, Julie Criddle, said: "We know that Pink Lady fans love the sweetness and crisp crunch of our juicy apples. This great eating experience is a result of the way our apples are grown and cared for, and we wanted to show consumers exactly what that means.

"Our aim with this promotion is to create a moment of escapism by giving every winner a little patch of sunshine in one of our orchards in the Vendée this summer."

Pink Lady Europe trade marketing manager UK & Ireland, Julie Maillard, continues: "We represent 2,800 European growers and are committed to bringing them closer to their consumers. They produce an apple of excellence, recognisable among all others and whose qualities are praised by consumers and taste lovers.
'Across this campaign throughout the UK, Ireland and Europe, approximately 4,000 consumers will have a tree dedicated throughout the growing season. Their tree will be adorned with a lanyard with their name; they will receive Pink Lady goodies and some lucky winners will be invited to come out to the Pink Lady orchards to pick their own Pink Lady apples in October 2021. A patient wait of seven months as the Pink Lady apple spends the longest time on the tree of all varieties!"