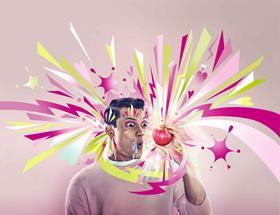 Leading apple brand Pink Ladyis launching its first-ever UK television advertising campaign this month.
As part of an extensive media initiative aimed at elevating brand awareness and communicating 'the unique eating experience of a perfect Pink Ladyapple', the campaign will use a new brand creative developed by McCann Worldwide.
It launches on Friday 12June on Channel 4 during a centre break of Gogglebox, and will continue to roll out across Channel 4, More 4, E4, Dave, W Channel and Alibi throughout June.
The TV ad campaign, which represents a significant investment from the brand, uses a new creative that brings to life the multisensory experience of eating a Pink Ladyapple, informed by consumer research and focus groups. Using the new execution, the campaign will be further amplified across print, digital and social media advertising, as well as integrated into communications through PR and across Pink Ladydigital channels.
Lynn Shaw, marketing manager at Pink Lady,said: "We are excited to launch a TV advertising campaign in the UK for the first time, particularly because our energising new brand creative really brings to life the sweet taste, crisp crunch and juicy boost of a Pink Lady.
"The advertising is enabling us to speak to our key demographic with a schedule targeting primetime, at this important period for new-season apples launching in store. We are confident the campaign will build brand awareness among new and existing fans, bolstering our position as the UK's number-one apple and fresh produce brand."