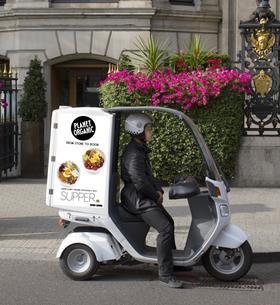 Planet Organic has launched into the hot food delivery market using London delivery service Supper.
The move, which represents Planet Organic's first foray into the delivery sector, is kicking off with deliveries from two Tottenham Court road branches. Customers can order from breakfast to early evening, Monday to Friday.
The Supper service was launced in 2015 and is described as bringing 'high-quality food to the well-heeled and hungry across London in specially adapted delivery bikes'.
The bikes, made in Japan, are designed to maintain the temperature and quality of the food, with the manufacturer claiming the standard of the delivered meal is therefore better than it is with other delivery options.
'We are all about quality, service and high customer expectations and Supper is perfectly aligned with that ethos,' said Planet Organic's food service director Caroline Ottoy. 'We're very excited to launch and believe it will be well received.'