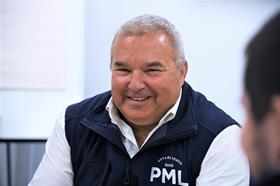 Logistics firm PML has officially opened a new satellite operation in Lympne Distribution Park, Kent that it says will help speed up the transit of consignments out of the Port of Dover.
The£6m transport and logistics hub spans220,000 sq ft in total with44,000 sq ft of warehouse space.
PML said the Lympne site is a prime location for hauliers, due to its proximity to the motorway network, Channel Tunnel, and the ports of Dover and Folkestone.

It also benefits from the absence of any charges or penalties associated with using the roads within Greater London affected by new LEZ standards.
The facility hasbeen approved as a Border Control Post to enable a faster transit of consignments out of the Port of Dover, and PML said it will help to reduce queues at Doverand assistnew and existing customers with new paperwork created by post-Brexit border controls.
The logistics company signed contracts on the new warehouse in September and says it has completed the necessary refurbishmentsin time to deal with the issues Brexit will bring.
The 24/7 operation will handle daily consignments of food – for packing, loading, and unloading – and has the capacity to easily process 80-100 truck movements a day in its first phase of operation, which will focus on refrigerated goods only.
This figure will increase during Phase 2, which is likely to be in 18 months' time, when ambient cargo will also be incorporated.
In total, 26HGV drivers have been recruited to operate out of the Kent site, and a furthereightvacancies will become available from April 2022. The Lympne facility has also created30office and warehouse jobs, with 20 staff already in situ or undergoing induction training.
PML emphasised that the new Kent hub ensures drivers using the facility are treated with respect and offered access to the fundamental amenities, as per their treatment in other European countries.
Commenting on the launch, managing director Mike Parr said: "This is a massive step for PML and once again demonstrates our commitment to spearheading new initiatives which challenge the status quo.
"In addition to proximity to the ports and Heathrow, we anticipate that haulage drivers will also appreciate the efficient and seamless service we will be able to deliver, enabling them to leave the trailer onsite while they take a rest break, as opposed to sitting in a queue worrying about the lengthy delays which could seriously impact on the condition of their perishable cargo.

"This will be a totally unique facility – there is nothing else that compares with it in the area - and we are excited to be the force behind such a major industry development."