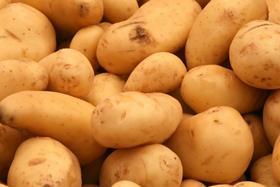 Potato growers with AHDB's Farm Excellence Network have found a way of saving over £65 per hectare in production costs while increasing yield.
Their findings come after a three-year trial programme for the network, and were revealed last week at Guardswell Farm for the Strategic Potato Farm Scotland Results Day.
By reducing their cultivation process, as well as decrease the amount of nitrogen, growers saved £31 per hectare on fertilisers, and £36 per hectare on fuel and labour.
The SPot Farm Scotland project, which was part-funded by the Scottish Government, used on-farm demonstration sites at Bruce Farms in Meigle, Perthshire to host a series of trials on subjects including cultivation, spacing and nitrogen nutrition.
Kerr Howatson, farm manager at Bruce Farms, said: "We became host of SPot farm Scotland in 2016 in a quest for knowledge. We wanted to trial ways to reduce costs and improve yields and then share this valuable information with the wider industry. We have identified clear processes to follow that demonstrate cost savings and improved packable yield.
"We have learned that by reducing our cultivation processes, both the number of passes and cultivation depth, we have saved money and time and become more efficient. Our nutrition trials have shown that we can cut our nitrogen use in our Maris Piper crops. By reducing the amount of nitrogen, we have gained better crops, maintained yield and pack and saved money."
Dr. Mark Stalham, head of the National Institute of Agricultural Botany (NIAB) at Cambridge University Farm, added: "Cultivation, spacing and nitrogen nutrition were our key themes over the last four years of trials on crops of Maris Piper.
"Overall there is a 2.6 tonne per hectare advantage from removing the bed tilling operation compared with bed tilling at 12 inches depth over the last four years. We included a preliminary cultivation trial to give us 'year zero'.
"Despite much industry scepticism that reducing nitrogen rates would increase yield, the results show the opposite, albeit on a limited basis. The overall result of 0.5 tonnes per hectare increase over three years, from reducing the application rate of nitrogen by 32 kilos per hectare, is small but there was a saving in costs of £31 per hectare and this was combined with no loss in quality."