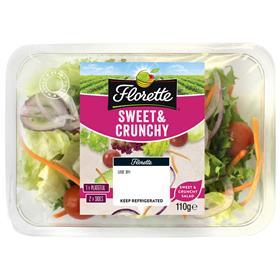 Prepared leafy salad sales are seeing year-on-year unit growth and consistent value increase as consumers offset lower price points by buying more frequently.
That's according to new figures from prepared salad giant Florette, which said that the "long-term" growth trend is primarily driven by category value growth (83 per cent) and improved penetration (17 per cent).
Sandy Sewell, commercial director for Florette UK & Ireland, said competition in the prepared salad market has "intensified", which has driven an increase in sales of products below £1.
"Weather has certainly been a factor with the UK experiencing fewer seasonal peaks than in previous years. This year we saw just one peak compared with two to three in previous summers," he said.
"Results show that year-on-year unit growth is up by four per cent and value growth has increased by two per cent for the leafy prepared salad category."
Sewell said consumers are buying prepared salad more frequently, but in smaller bag sizes at a lower price point.
Snack and prepared salad specialist Freshtime has also noted growth in the category, and said that compared to this time last year, food-to-go salad sales have increased slightly, by just over one per cent in terms of value.
Callum Albrighton, Freshtime's marketing data analyst, said: "Compared to the five-year average, both value and volume sales have increased, with volume up more than value.
"One of the main reasons for this increase is due to the innovation that is taking place within the category, especially in the London area.
"New products are allowing customers to try exciting new products that they would not be able to try at home for the same price. With an increase in disposable income, it is likely that the category will continue to increase, as people have the money to treat themselves at lunchtime."
Sewell added that the introduction of one-person salad bowls is a new consumer trend that is influencing the wider prepared salads category, and said that Florette sees bowls as a "great opportunity for growth", and currently total £6.7m in value sales.
"In addition, Florette is focused on bringing new experiences to the consumer. For example, the new Florette Superfood Salad features a nutritious leaf mix of beetroot, wild rocket, spinach, baby kale and baby chard and already is building strong distribution in the retail trade," he said.