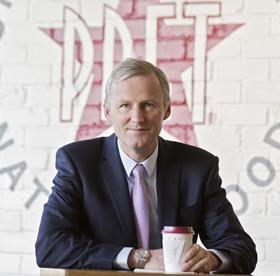 Healthy food-to-go chain Pret A Manger has seen like-for-like sales rise by 4.8 per cent and recorded its 12th consecutive year of revenue growth.
Figures for the 52 weeks to 29 December 2016 also showed group sales have risen by 15 per cent to £776.2 million.
The company opened 50 new sites during the last year and will open its 500th store in the next 12 months as it continues its global expansion progreamme.
CEO Clive Schlee said: "Pret's simple recipe of freshly made food and fast, friendly service allows us to flourish in diverse locations around the world – from Penn Station in New York to the campus of Exeter University and Dubai International Airport."
Other highlights included the opening of Pret's first trial Veggie Pret, in central London, which was made permanent after standout sales. Pret said over half (52 per cent) of Veggie Pret customers are meat-eaters looking to cut down.
A second Veggie Pret opened earlier this month in Shoreditch, London, while Pret US has also seen increased customer interest in meat-free products and launched a new vegetarian range and 'Not Just For Veggies' campaign this week.
Almost two thirds (59 per cent) of Pret's sales now fall outside of lunchtime, as eating habits shift to healthy snacking and more meals being eaten out of the home. The chain also said that 16 per cent of sales now come from Pret shops in airports and train stations, with key new openings at Penn Station in New York, Charles de Gaulle airport in Paris and Dubai Airport.
Schlee said: "We look forward to opening our 500th Pret shop in the next 12 months and furthering our measured expansion in both existing and new markets.
"We will of course continue to focus on the essentials: menu innovation and the quality of our ingredients, opening new shops in top class locations around the world, and above all, recruiting and engaging our wonderful teams."