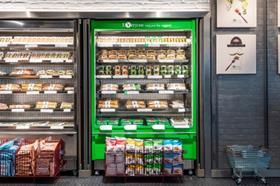 Pret A Manger has announced that its vegetarian fridges will stay for the rest of the summer, having proved popular with customers.
In June, the high street chain launched the separate green refrigerators, which contain only vegetarian and vegan food, in selected outlets, expanding its meat-free campaign.
A post on Pret A Manger's Facebook page on 3 August said: "Noticed our green veggie fridges? We've been trialing them for a month and they've proven to be quite popular… they're here to stay for the rest of the summer."
The trial of the fridges was originally intended to last just one month, with their installation accompanied by monthly vegetarian and vegan 'specials' at the chain.
At the time of the launch, Pret CEO Clive Schlee wrote on his blog: 'The bold green fridges will be accompanied by monthly veggie and vegan chef's specials and a new campaign, which aims to encourage more meat eaters to try our veggie options.
"Will it attract or deter our regular meat-eaters? We'll be monitoring your feedback and the sales very closely."
The fridges follow the trial of two veggie-only stores, which were made permanent after they became an unexpected hit. In June Schlee said that reaction to the fridges could determine the location for the next Veggie Pret, but there is yet to be an official update.
In the meantime, customers can expect an influx of new vegan and vegetarian dishes, such as the recently launched 'Vegan Chili and Avocado Flatbread' and 'Chargrilled Veg and Pesto Baguette', available until September.