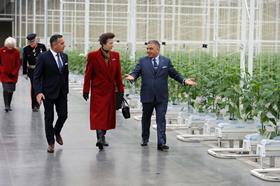 Former Watford FC directors and owners of Valley Grown Nurseries Jimmy and Vince Russo welcomed HRH Princess Anne to the Lea Valley on Wednesday for a tour of what is the largest glasshouse expansion in the region since the 1950s.
During the tour the brothers explained why they are expanding Valley Grown Nurseries, which grows sweet peppers and tomatoes for domestic consumption.
Their aim is to increase production of the two crops through improved technology and increased automation at the company's new glasshouse in Nazeing, Essex.
The tour included a visit to the packing and grading area, where automated trolleys are used to bring produce out of the glasshouses.
Princess Anne unveiled a commemorative plaque and signed the same Lea Valley Growers' Association visitors book that her grandmother, the Queen mother, signed when she visited the Lea Valley in June 1959.
She also met nursery managers and workers and invited guests, including NFU president Meurig Raymond, Essex County Council chairman councillor John Aldridge, and Essex Police and Crime commissioner Roger Hirst.
Vince Russo said: "We were pleased and honoured to host the Princess Royal today. Her visit allowed us to demonstrate how we are investing in the latest technology and techniques to grow sweet peppers and tomatoes with the best quality and maximum shelf life to the British consumer.
"She appeared to be genuinely interested in the growing process, including finding out more about the automation we have introduced throughout the new glasshouse."
Jimmy and Vince Russo's parents arrived in the UK from Sicily in 1952, settling in Hertfordshire. Their father was a cucumber grower and the brothers followed in their fathers footsteps, forming Valley Grown Salads together in 1982.
Lea Valley Growers Association secretary Lee Stiles commented on the investment, saying: "This new glasshouse represents an exciting development for the Lea Valley and we were delighted to have the opportunity to tell Her Royal Highness all about it today.
"Much has changed since the Queen Mother's visit almost 60 years ago, but one thing that has remained constant is the enthusiasm and commitment of our growers to produce the best quality fresh food for the British public."
The Lea Valley has about 300 acres of specialist glasshouses, where growers produce over 200 million cucumbers, sweet peppers and other salad crops every year.