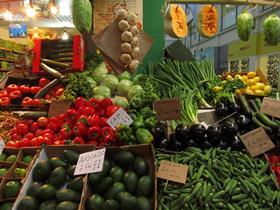 A fruit and veg voucher scheme that provides produce to low-income families in London will receive a royal visit next week.
HRH Princess Alexandra will visit the Alexandra Rose Charity (ARC) initiative in Brixton market, where families can redeem vouchers in exchange for fruit and vegetables.
As president of the 100-year-old charity, which was set up by her great-grandmother, Princess Alexandra will visit the Maytree Children's Centre to meet families receiving the vouchers, and then visit Brixton Market.
She will hear directly from mums and children how the Rose Vouchers for Fruit & Veg project has improved their diet, made them more adventurous in their choice of food and helped bring the community closer together.
Benefits of eating more fruit and vegetables are well known, but price and accessibility is a problem for many families, the ARC said.
"Families on low incomes can't afford to risk buying fruit and veg their children may not eat. We've all faced the problem of kids who won't eat their greens," said ARC chair, Mike Morris.
"If you are on a tight budget, you can't risk being adventurous as it might end up as a waste of money. However, with the help of our Rose Vouchers, families can afford to include more fresh fruit and veg in their diets and they are reaping the health benefits as a result. That is, quite simply, life-changing."
The Rose Voucher project is run in partnership with food policy organisation Food Matters across seven children's centres in Lambeth.
It identifies families at risk of diet-related ill health and food poverty who then receive weekly Rose Vouchers to spend at local markets in the borough, alongside support such as cook and eat sessions.
ARC chief executive Jonathan Pauling said: "Sometimes it's hard to know quite what to do with certain vegetables. That's why cooking classes have been set up to help Rose Voucher families learn how to make tasty and interesting dishes which will appeal to their whole family while maximising the extra fruit and veg they are able to buy.
"The spin off from the Rose Voucher project is that it's helping build communities too. Living in any inner city can be lonely – especially for new mothers. By meeting at the children's centres, learning new skills together, and visiting their local markets together, real friendships have been forged. Information is being shared over cups of tea as well as over fruit and veg, and the end result has been not just healthier diets but happier people and closer-knit communities."
Families participating in the scheme are reporting increased consumption of fruit and vegetables and increased confidence. "Sitting at the table eating quality food together and talking and enjoying our meal has strengthened our family relationships. I now find my children and I automatically reach for the fruit bowl rather than the biscuit tin."
Princess Alexandra will have a chance to chat to families at Maytree Children's Centre and watch a cookery class taking place. She will then go onto Brixton Market to meet stallholders who handle the Rose Vouchers, as well as some of the families exchanging their vouchers at the stalls.