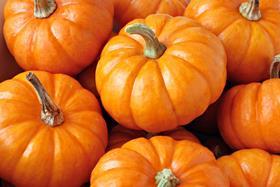 More people are viewing Halloween pumpkins as food and not just a decoration, according to research byenvironmental charity Hubbub.
The survey, carried out by Censuswide, asked 2,000 UK residents about their Halloween habits and reveals that three in five (59 per cent) of pumpkins bought for carving were eaten last Halloween.
In 2015 only one in three (31 per cent) were eaten, rising to more than two in five (46 per cent) in 2019, showing an encouraging trend in the fight against food waste.
Bigger focus on Halloween
However, the survey also shows that more people celebrate Halloween than ever before - up to 56 per cent in 2020 from 50 per cent in 2019 - and those households that celebrate carve an average of just over two pumpkins each.
That means 35 million pumpkins are set to be bought this year with 14.5m expected to go to waste. That is almost as much as the 15m wasted in 2015 and enough to make a bowl of pumpkin soup for the whole UK population.
The findings come as Hubbub launches its annual Pumpkin Rescue campaign, to help tackle the large number of pumpkins set to go to waste this Halloween.
Last Halloween, 33m pumpkins were bought for carving but nearly 12m of these were left uneaten. Encouragingly, the charity pointed out, awareness of the fact that carving pumpkins can actually be eaten has increased - up to 53 per cent compared with 42 per cent last year.
Growing knowledge
The survey also suggests a positive shift in people's knowledge of food waste and cooking during Covid. More than one in four people (28 per cent) said that since Covid, they have gained better knowledge of cooking, food and how to use leftovers, while one in three (33 per cent) say that they have become more aware of food waste and its impact on the environment.
Michael Dell'Armi, pumpkin buyer at the Co-op, said: "At the Co-op we're committed to preventing food waste in our stores and do what we can to help our customers reduce food waste at home. We're expecting sales of pumpkins to fly off the shelves again this year so we're encouraging our customers to eat their pumpkins and then compost them where possible, to help reduce the impact of Halloween on the environment."
Hubbub is also urging people to compost their carved pumpkins, put them out for the birds or dispose of them in the food waste collection, to prevent used pumpkins heading to the general household bin where it said they will produce harmful greenhouse gases if sent to landfill.