M&S half-year results for 26 weeks to 30 September 2023 reveal rise in profits and food sales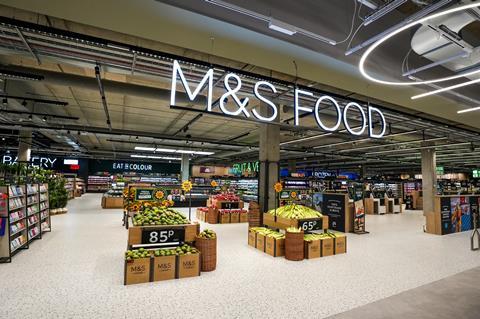 British retailer M&S has announced a strong half-year financial performance, reporting a 75.3 per cent rise in profit before tax and a 14.7 per cent increase in food sales for the 26 weeks to 30 September 2023 compared to the prior-year period.
Publishing its latest results today (8 November), M&S declared a good year-on-year improvement in almost all businesses, with a total profit before tax and adjusting items of £360.2m for the half-year, up from £205.5m in 2022/23.
Food sales, meanwhile, rose 14.7 per cent, the retailer said, generating an adjusted operating profit of £164.9m – up from £71.8m in 2022/23.
Commenting on the retailer's performance, M&S chief executive Stuart Machin attributed the group's strong results to its recent strategy to "reshape M&S for growth". He said in Food, M&S delivered over 500 quality upgrades and invested over £30m in price, lowering the price of 200 products and locking prices on 150 customer favourites.
As a result, M&S's lead on quality perception widened, and value perception continued to improve, Machin said.
He added that sales growth was supported by an investment in store rotation, the opening of three new stores and renewal of six – all attracting new customers.
"Our cost reduction programme is on track, with over £100m savings delivered in the half, and investment in supply chain modernisation driving efficiencies, translating volume growth to improved margin and profitability," said Machin.
Favourable market conditions, surprisingly resilient consumer demand and the effect of competitor exits from the market provided a solid backdrop for its strong performance, M&S added in its financial report.
Looking ahead, the retailer said that it is planning for a good Christmas, but does not rely on the current favourable market conditions persisting into 2024.
"The outlook remains uncertain with the probable impact on the consumer of the highest interest rates in 20 years, deflation, geopolitical events and erratic weather," its report said. "Notwithstanding this backdrop, we will continue to invest in trusted value for our customers and we are increasing our investment in the reshaping of M&S in the second half."