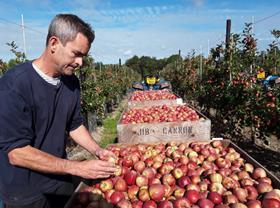 A record crop of Cameo apples has been achieved this year.
Harvesting of this season's Cameo crop has now been completed with a record picked volume of 5,700 tonnes, which exceeds the previous highest crop by 34 per cent.
Growers say the increase has been due to the planting of new orchards combined with higher yields arising from the development of new clones. It has been achieved against the background of reduced apple crops in Europe and a static volume compared with last season of total dessert apples in UK, they added.
The Cameo Club reports that consumer demand for the variety has been growing steadily and has been stimulated in the last two seasons by a Facebook advertising campaign whose objective has been to increase consumer awareness of the variety and inspire them to ask for it by name.
Cameo is described as having exceptional storage capability, providing growers with the potential to market a UK-grown apple in the mid and late summer, thus bridging the gap between the old and new seasons.
Adrian Barlow, UK marketing consultant for the Cameo Club, said there was still more to be done before the variety achieves its full potential: "Despite the increase in the crop, this season there will be insufficient volume to sell Cameo in July and August as we expect the entire crop to be sold before then. Further volume production increases will be necessary until it is possible to realise the enormous sales potential for Cameo in this late period".
Marketing of this season's crop is scheduled to begin with small volumes in December, with the bulk of the crop being sold from January to May, when it will be supported by a new Facebook advertising campaign.