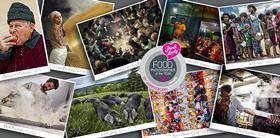 The Pink Lady Food Photographer of the Year Awards has moved into its tenth year, celebrating more than 10,000 entries for the first time in its history.
The awards, which Pink Lady has headline-sponsored since they began in 2011, celebrate the world's best food photography and video.
Last year's winner was KM Asad from Bangladesh, whosepowerful image 'After Exodus' pictured children waiting in line for food at a Rohingya refugee camp of over one million residents.
Alongside the main awards, there is a social media competition calledPink Lady Snaps, judged by renowned food photographer David Loftus.
Social media users across the globe are invited to share their best food photography on Instagram and last month the competition received a record 1,289 entries, with almost 6,000 submitted overall so far.
This year, the competition has been bolstered by an influencer campaign, with past winners offering photography tips and tricks to fellow Instagram users to help them create the perfect snap. Loftus will select an overall Pink Lady Snaps winner in April.
The main awards will once again be presented in a digital format for 2021, with the online awards ceremony taking place on Tuesday 27April.
The event will be streamed live via the awards'YouTube channelwith a special guest celebrity presenter soon to be revealed.
New for this year is The Claire Aho Award for Women Photographers – dedicated to the memory of Finland's greatest female photographer – to encourage and celebrate women photographers from across the world.
This year's global judging panel is once again chaired by Loftus, who among others will be joined by Fiona Shields, head of photography at the Guardian.
To mark the 10thanniversary, the awards is also launching an ambassadors' panel featuring chef and global icon of gastronomic art, Ferran Adria.
Lynn Shaw, marketing manager at Pink Lady, said: "This incredible number of entries really cements the prestige of the awards and demonstrates how significant they have become on a global scale – boasting over 70,000 entries from 80 different countries since their inception in 2011.
"This year we are really excited to be able to spotlight women photographers with the introduction of the Claire Aho award.
"We look forward to seeing the shortlisted images chosen by our panel of judges for all of the award categories – particularly our very own Pink Lady Apple a Day category showcasing the most creative and innovative shots including apples."
The tenth anniversary exhibition will be premiering at The Royal Photographic Society, one of the world's oldest photographic societies, at its new gallery space in Bristol. Art and food lovers will be able to view the exhibition between 20November and 12 December 2021.