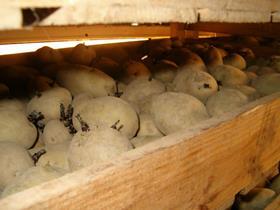 Seed potato exports are booming, with the latest figures indicating that 2014/15 has been a record-breaking season for the industry.
Already, 81,968 tonnes of Scottish seed potatoes have been exported to non-EU countries, and with the season running from July to June, there could be up to another 3,000 tonnes to add to that figure, based on previous years. The current figure is already up 4,000 tonnes on 2013/14's final total of almost 78,000.
Scotland's rural affairs secretary Richard Lochhead, said: "These are fantastic figures for the seed potato industry. This is great result of strong collaboration between our exporters, Potato Council and the Scottish government working together to nurture existing markets and, importantly, to develop new ones.
"Scottish seed potatoes are exported to more than 25 countries outside of the EU – something that comes on the back of our high plant health status and world-wide reputation as a producer of quality seed."
Scotland's reputation for high plant-health standards was reinforced even further recently when Colin Jeffries of Science and Advice for Scottish Agriculture (SASA) led an international team, which has produced an agreed method for detection of potato spindle tuber viroid, on behalf of the UN.
Potato spindle tuber viroid is a plant disease currently not found in Scotland – the team's method will both help to keep the disease out of the country, and help facilitate international trade.
The Scottish seed potato sector is valued at around £80-100 million, with 75 per cent of UK seed potato production taking place in Scotland, and 80 per cent of UK seed potato exports coming from Scotland.
Scotland exports around 300,000 tonnes of seed potatoes annually. In 2013/14 78,000 tonnes were exported to non-EU countries, 20-30,000 to EU countries, and the rest to the UK and home markets.
Even Russia recently re-commenced imports of Scottish seed potatoes.