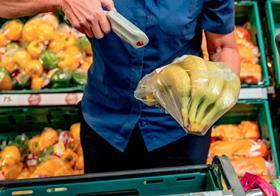 UK supermarket chains have launched huge recruitment drives as demand for products shoots up amid the coronavirus outbreak.
Together Tesco, Aldi, Asda, Co-op, Morrisons and Lidl have advertised 45,000 jobs to help cope with the increased demand and offer employment to people in industries hit by the crisis such as hospitality.
Although many have labelled the surge 'panic-buying', Kantar analysis of the shopping habits of over 100,000 UK consumers found that just a minority of people are engaging in what might traditionally be thought of as stockpiling.
Instead a significant number of consumers are addinga few extra products each timethey visit a store.
All of Britain's major retailers have responded by imposing purchase limits on products such as toilet paper, pasta and hand soap. At some retailers this applies to tinned vegetables, but fresh fruit and vegetables remain unrestricted.
So far, the crisis has not greatly affected volumes of most fresh produce in the supply chain, however produce aisles are running empty unusually fast, leaving many shoppers little chance of buying fruit and vegetables later in the day.
To help cope with demand Tesco wants to employ 20,000 temporary workers, while Aldi is advertising 4,000 permanent and 5,000 temporary positions. The temporary workers are needed at stores and distribution centres across the UK, starting immediately.
Aldi's recruitment director Kelly Stokes said: "We want to keep supporting our local communities through these uncertain times, with access to groceries and wages to keep their families going, and we feel we're in a position to be able to do so through the creation of these new roles."
Large recruitment drives have also been launched at Asda and Co-op, each of which is looking for 5,000 more store staff.
Co-op, which is advertising a mix of temporary and permanent positions, says the new workers will help stores replenish stock more efficiently, fulfil online orders and assist more vulnerable customers.
For its part, Morrisons has created 3,500 new jobs as it looks to expand its home delivery service. This will include around 2,500 pickers and drivers as well as 1,000 new staff at its distribution centres.
Ocado is also looking for delivery drivers and operations managers, with roles available in locations across the UK.
Overwhelmed by orders, Ocado last week suspended its online delivery service for 48 hours so it could prioritise existing orders. The site has now reopened with new rationing rules in place.
Waitrose has received 2,000 staff from John Lewis, which has temporarily closed all 50 of its stores.