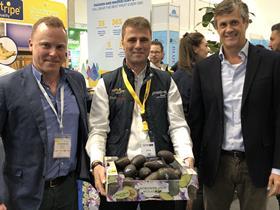 Temperature-control-systems specialist and exclusive UK 'Softripe' supplier, JD Cooling, has just won a contract to install the first British Softripe facility for international distributor Worldwide Fruit in Spalding.
The deal was struck during the Fruit Logistica trade show in Berlin in February after Worldwide Fruit successfully ripened 500,000 avocados using the new system in a trial room set up by JD Cooling.
Worldwide Fruit's new Softripe facilities will be up and running in May, and used initially for avocados, revealed JD Cooling founder John Dye at the trade show.
"Worldwide Fruit believes it is a game-changer for the avocado industry," he says.
Softripe, the brand name for the new ripening technology developed by German fresh produce cooling and storing specialist Frigotec and Brazil-based Dr Valdir De Bortoli, a former Nasa scientist, is "revolutionary" for the avocado trade, according to Frigotec managing director Roland Wirth, because it results in evenly-ripened fruit.
"Softripe is unique in that it is able to communicate with the fruit, measuring its respiration activity," Wirth explains. "Using complex algorithms, the system 'talks' to the fruit and guides it to its optimal biological ripeness, all without stressing the fruit. Thanks to this constant 'dialogue', the fruit tells the system when it is ripe."
Specific data about the fruit is first input into the system, such as where it was grown and its variety, to generate its optimal ripening program. Then fruit is placed in a sealed chamber where sophisticated computer software constantly analyses the respiration rate of the fruit and varies air-flow for the ripening process accordingly. The result is homogenous ripening, says Wirth.
The computer-based system can not only predict the exact time the batch of fruit will be ready, but can also transform the chamber into a controlled-atmosphere-coldstore after the ripening process, keeping the fruits in a perfect, ripened condition for up to seven days, Wirth explains.
"The new ripening technology is revolutionary for consumers as well as fruit distributors because it will produce a better and more consistent fruit quality," he says.
Because the Softripe program is tailored to every batch of fruit, ripening times are shorter than conventional processes, Dye explains. The Softripe system therefore uses around 40 per cent less energy; and, thanks to its ability to measure when the ripening process is complete, it does away with the need to manually test fruit at different stages, thereby cutting waste from the process. Heat used in the Softripe system is recovered and recycled, he adds.
"Although the system requires a considerable initial investment, we have demonstrated in trials that Softripe can take cost out of the ripening process," says Dye. "It also means distributors can predict exactly when a consignment is ready for customer orders."
Given the reliability of the process and the consistently ripe fruit it produces, Wirth believes it would hugely benefit UK avocado sales at retail level if Softripe ripened fruit was clearly identifiable with a Softripe sticker.
"We feel it would be a real advantage to retailers if consumers were informed that they are buying a 'Softripe' ripened avocado," he says.
As well as avocados, the Softripe system is being successfully used on bananas, and has been tested on Brazilian mangoes, with fantastic results, says Dye. "We believe Softripe could deliver consumers a much better mango-eating experience too," he says.
"It's also good with Kaki/persimmons and other fruits like kiwifruit and papaya," says Wirth.
Softripe's story began with Brazilian banana producer Carlos Fava, who after many decades in the business felt frustrated with the imprecision and variability of the traditional fruit ripening process, Wirth explains.
At his wits' end, about five years ago Fava approached Brazilian ex-Nasa scientist Dr Valdir de Bortoli with his dilemma to ask if a more accurate system could be developed.
De Bortoli believed so, and partnered with Frigotec to develop a commercial solution.
"I've been in this business all my life, but never before have we had such an exciting product to install. It's a game-changer," says Dye.
Softripe won silver in the Fruit Logistica Innovation Awards 2019.
As well as the UK, Softripe has installing partners in Europe, South America and Asia.