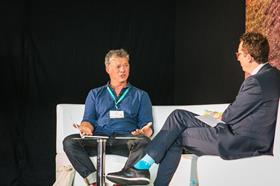 Riverford founder Guy Singh-Watson has hit out at the convenience culture fuelling CO2 emissions, ahead of joining Extinction Rebellion protests.
A noted critic of industrial supply chains and energy-intensive food production, Singh-Watson told the audience at FPJ Live that catering to the whims of consumers was an "absolute disaster" and would spell "doom" for the planet. He was speaking as part of a special FPJ Life Stories session, sponsored by MorePeople.
Earlier in the month Singh-Watson helped members of Extinction Rebellion pick surplus sweetcorn from his farm to help feed the campaign group, which has been occupying Trafalgar Square this month, donating around 5,000 cobs.
"I have really grave reservations about the ability of our system. Everything I heard today is really slavishly following the paradigm of the customer-is-always-right. We're doomed, someone has got to say no at some point," Singh-Watson told the audience. "I spoke to one company who were very proud that they were using less plastic but they were airfreighting their strawberries to Hong Kong because you can make money out of it. We can't carry on doing that stuff.
"Just because you can make money out of it, is no more reason to do it. Just because someone picks up marginally more oranges if they're in a net than not, it's just not bloody good enough."
Singh-Watson said the trend for flexible delivery slots from online orders is "absolutely disastrous", adding that his carbon emissions from vans would sharply rise if Riverford followed other supermarkets in offering them.
"It's just horrendous; 26 per cent of our carbon footprint is the delivery in the final step from the hub, and that's with a weekly delivery slot. It would go up by a factor of three or four if we did 20-minute slots. It's an absolute disaster, constantly chasing consumer whims is a disaster for our planet and we can't afford to do it."
In a wide-ranging interview, Singh-Watson said the environmental and political ideology behind Riverford came much later, having started the company in 1987 because he felt he was "unemployable".
"It was a demonic need to prove myself. I knew I needed to be outside, I knew I wanted something to do with food, my love for food and cooking was growing and I knew I was unemployable. I'm pig-headed, stubborn and rude a lot of the time, so I really had to start my own business."
He said the desire to go organic was inspired by the sight "of his brother's swollen testicles from paraquat poisoning", adding he was initially resistant to the idea of starting a delivery scheme. "I didn't want to spend my life around those containers with skulls and crossbones on them, it was largely a selfish thing. Totnes in south Devon was an alternative area and there were quite a few shops selling organic veg and I think I did sense it was an emerging market."
Riverford also gained more fans when it became one of Britain's few employee-owned companies, which Singh-Watson said has boosted business since starting the scheme. "I abhor the prevalent paradigm in business that we are all motivated by greed and greed alone. I do believe that humans are much kinder, creative and more noble than that. In June last year we became 74 per cent employee owned. It's been incredibly rewarding personally and commercially, we have never done better."