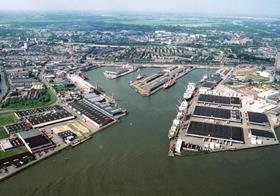 The port of Rotterdam faces tailbacks and "carnage" due to Brexit as Britain-bound goods face lengthy delays at the border.
Authorities at the port have circulated a document titled ""Gaan we het schip in?" which roughly translates as "are we going to be screwed?" according to The Independent, which anticipates a cumulative 50 per cent reduction in trade growth with Britain as a result of Britain's departure.
Rotterdam port, which acts as a hub for deep-sea ships before goods are unloaded for Britain, could also face tailbacks of "8 or 9km or traffic jams".
Furthermore cut-off times for retail orders could shrink. UK supermarkets currently have a 2pm cut-off time to order something from the port to arrive on their lorries at warehouses by5am the next day thanks to a lack of bureaucracy.
Mark Dijk, the port authority's external affairs manager, said: "We decided we have to do something about it. There are around 3,000 companies here, they're not all doing business with the UK, but most of them are."
Renske Schoenmaker, a business manager at the port added: "This is especially the market that is focusing on high speed supply chains. Sometimes with containers, if you're a day late you're fine. But if you have fresh flowers going to the UK, every day you're late you lose 30 per cent of your profit."
Catherine Bearder, a Liberal Democrat MEP said Dutch preparations for Brexit were "embarrassing" for the lagging UK.
"The UK government is not nearly as prepared for Brexit as the Dutch are. Frankly, it's embarrassing," she told The Independent. "British supermarkets rely on zero delays at the border. Brexit seriously threatens shoppers from getting their food on time at a good price," she said.