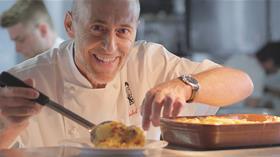 A commercial herb farm being grown in former World War Two air raid shelters under south London has been backed by celebrity chef Michel Roux Jr.
The tunnels provide 2.5 acres of growing space about 100ft under the northern line near Clapham North, and use filters to keep the air free from pests.
The plot, the BBC reported, will be powered by a hydroponics nutrients system and LED lights will be used as a substitute to natural daylight.
The project was founded by two entrepreneurs, Richard Ballard and Steven Dring, and uses land leased from Transport for London. Michelin-starred chef Michel Roux Jr has now joined the team as director.
If the crowdfunding target of £600,000 is reached the pair said they hope work will begin in March, and that the first produce will be sold in wholesalers, restaurants and supermarkets by late summer.
The miniature farm, expected to employ up to 20 people, will initially grow herbs including thai basil, garlic chives, red vein sorrel and rocket. There are plans to expand to tomatoes and mushrooms later.
Ballard told the BBC: "There is no 'could', 'might' or 'maybe' about our underground farm. We will be up and running and will be supplying produce later this year.'