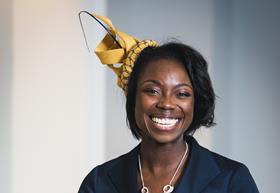 With multiple degrees, a Nuffield scholarship and the small matter of an honour from the Queen under her belt, it's fair to say Barbara Bray isn't your typical fresh produce professional.
Bray was awarded an MBE in the Queen's Birthday Honours in 2019 in recognition of her services to food nutrition, capping a fascinating route to the top for the 46-year-old from Darlington that has taken her across the world and back in pursuit of knowledge and self-improvement.
Like many young people, the teenage Barbara Bray did not know exactly what she wanted to do when she grew up, but she did know that it had to involve food. Fond of cooking in the kitchen, experimenting with food and seeing her father grow sweetcorn in the garden, it led her to apply for a food science degree. However, when she failed to get the requisite grade in chemistry, she switched to food technology at the University of Reading and never looked back, completing a four-year course that included six months at Waitrose's head office in Bracknell and a further six at an R&D centre in Munich.
A successful academic, Bray has gone on to complete a Master's degree in postharvest technology at Cranfield University, a second Master's in human nutrition at the University of Chester, as well as studying Spanish and French at the Open University. Among all that a career in industry began when she joined prepared produce specialist Bakkavor as a produce management trainee in 1999, later moving into procurement and technical during her 14-year stint at the company.
But despite success in the classroom and in industry, one gets the feeling Bray believes it is her time abroad that has been the making of her. "At Cranfield I had the opportunity to go abroad to Uganda and take part in one of the charitable projects there, which was working with subsistence farmers and looking at post-harvest handling and protection of crops," she recalls. "From there I went to work on a commercial farm in Uganda, working with fresh vegetables, managing the operation from a technical and packhouse point of view. I really enjoyed that, and I also did some work with a USAID project. I enjoy going and seeing other places. You see the context in which people live their lives. It's very humbling because you realise what a privileged lifestyle you have [in Britain], and as you get older you look at things with a wider lens."
That lens was expanded further when Bray undertook her Nuffield scholarship focused on vegetable production for specific nutritional needs, a project that again took her around the world to learn about different ways of doing things. Her studies have helped her come to the conclusion that there's no silver bullet when it comes to solving the obesity crisis currently gripping Britain and the wider western world, instead favouring a broadbrush approach that takes in different methods. "We can do a lot more," she says. "We've gone down the route of legislation and banning things, but that's only one mechanism. If we look at all the different options we have got, we can do them all, because everybody is different and we are all individuals and respond to things in different ways. Some people like to have rules, others like to have more choices and not be in a nanny state. You have to cater to everybody. You've got education, nudge technology, legislation, environmental aspects like good housing and income and access to food. It's not just all about legislation and guilt tax."
These days Bray runs her own consultancy business, Alo Solutions ('alo' in Latin meaning educate, support and nurture), where she offers advice as well as speaking at events and educational institutions. She's nothing if not active in industry affairs too, and is a director of the Oxford Farming Conference and sits on committees for the Institute of Food Science & Technology and The Nutrition Society's Training Academy. A speaker of some renown, she has contributed to debates at the UN Committee for Food Security in Rome on Youth and Women in Agriculture. And it's actually at UN level where the findings of her Nuffield report have received the most traction as the organisation looks to introduce global voluntary guidelines on nutrition.
As a black woman in a white male-dominated industry, Bray stands out for more than just her talents and achievements, and is undoubtedly a role model for others from less traditional food and farming backgrounds. She cites two strong female mentors at Bakkavor as having helped in her early career, as well as listing Groceries Code Adjudicator Christine Tacon and the Oxford Farming Conference's PR guru Jane Craigie as two quite different personalities who she finds impressive and inspirational. "You need advocates and mentors in your life, male and female," she believes. "That is really important if you want to progress your career."
Women are becoming much more prevalent at all levels of farming, but there is undoubtedly a severe lack of BAME (Black, Asian and Minority Ethnic) people working in the fresh produce trade. Bray feels that will change in time, but ultimately it's a question of geography. "If you look at where a lot of the BAME community lives, it's in urban areas," she points out. "By default you're not going to get people coming into agriculture if you grew up in an urban area. I look at my London-based cousins, and yes they are interested in food and farmers' markets, but they are not going to work in the farming sector because they are not exposed to it."
So does it matter if farming lacks diversity? "It matters, yes, because sometimes I go places and people just look at me and I can tell they want to ask me a question but they don't know the appropriate way to put it. But people are really just people. People respond to you as they find you, and if you're able to be approachable, that's usually what you get back."
Bray says she was "stunned" and thought it was a hoax when she heard she was being made an MBE, but when she thought about it in more detail she realised just how much she is doing. "When people asked me about it I started to list all the things I do and I thought, 'when do I sleep'?" she laughs. "Between all the committee meetings and going out to talk to students about nutrition, you just dash from here to there. You realise you are actually making a difference when you think you are just one person doing your small thing. It has a ripple effect."
It's a ripple that undoubtedly has even further to spread too.