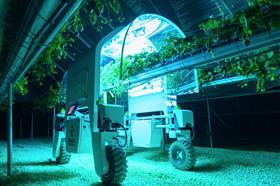 Agricultural automation specialist Saga Robotics has raised €9.5 million from international investors as it eyes ambitious growth.
The company's Thorvald robots operate on farms in Norway, the US and the UK, offering light treatment to control mildew on strawberries and vines, which significantly reduces the need for fungicides.
The Norwegian and UK-based business is also developing an autonomous strawberry picker which will soon be deployed commercially.
The new funding in coming from the Norwegian sovereign climate investment company Nysnø Climate Investments, along with London-based ADM Capital Europe LLP and the Rabo Food & Agri Innovation Fund, the investment arm of Dutch agricultural bank Rabobank.
The lead investors have also been joined by a group of Norwegian funding partners including Propagator Venture.
"Agriculture has experienced enormous development in recent decades which has enabled much of the population growth, as well as the growth in prosperity we have seen in the last 50 years," said Pål Johan From, chief executive of Saga Robotics.
"Now that we must double our food production again by 2050, we see that robotisation and digitalisation will be key elements in the agricultural revolution that is needed to achieve these goals.
"Our goal is for Thorvald to play a key role in the transition to more sustainable and efficient farming practises, and we see enormous market opportunities for growth internationally in all the segments we operate in."
Alastair Cooper, head of venture investments at ADM Capital Europe LLP, added: "The Covid-19 pandemic has accelerated the need to advance the use of robotics in agriculture, as technology will play an increasing part in reducing labour risk in the harvesting process.
"The Cibus Enterprise Fund is excited to add Saga Robotics to its growing portfolio of sustainable agri-food tech investments. Saga's robots improve sustainability in farming by reducing soil compression, CO2 emissions and production losses due to mildew.
"Using precision farming technology, Saga reduces pesticide and fungicide use and increases plant yields. With quality data applications we will start to see greater actionable intelligence provided to farmers."