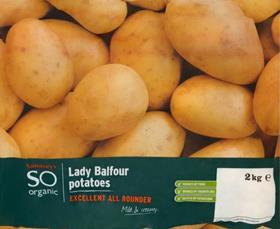 Sainsbury's has released new packaging to prevent potatoes from going green so quickly in a bid to cut household wastage.
Potatoes are the UK's most commonly wasted vegetable with an estimated 730,000 tonnes (5.8 million individual potatoes) binned by British households each year.
As part of its 'Save Our Spuds' campaign, the retailer has launched new packaging which is 100 per cent opaque, whilst still breathable. The new opaque bags will stop light from reaching the produce – the main cause of greening.
This green discolouration develops due to a build-up of solanine, a naturally occurring chemical triggered by too much light.When potatoes turn green, they develop a bitter taste and become unsuitable for consumption due to a buildup of toxins, known as glycoalkaloids, which are harmful to humans.
Commenting on the Save Our Spuds campaign, Sainsbury's head of packaging Jane Skelton said: "We're confident that this will improve the shelf-life of our potatoes and, while the packaging might be opaque, we're hoping the results will be clear to see!"
The new potato bags will be rolled out across Sainsbury's stores for both King Edwards and Lady Balfour potatoes – the two varieties most susceptible to greening.
Despite the new packaging's benefits, the retailer recommends that, as with all potatoes, these varieties should be kept in a cool, dark place.
The move is the latest in a string of innovations from the retailer to help households cut waste. Last year, it launched 'Waste less, Save more' – a £10 million programme to help UK households save money by reducing the amount of food they throw away.
Since then the retailer has given out over 1m fridge thermometers to help extend product freshness.