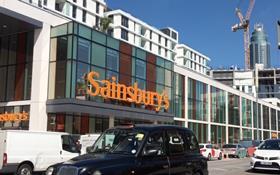 Sainsbury's has scored a victory among the big-four supermarkets as the only one to have grown sales in the past quarter.
The latest market share figures from Kantar show that year-on-year supermarket sales grew by the fastest rate since November last year, at 0.7 per cent over the past 12 weeks.
Sainsbury's was the only one of the traditional large grocers to increase year-on-year sales, with spend up by 0.3 per cent as it returned to growth for the first time since October 2019. Tesco and Asda's sales dipped by 0.8 and 1.2 per cent respectively, while Morrisons' were two per cent lower than the same period last year.
Fraser McKevitt, head of retail and consumer insight at Kantar, said: "Sainsbury's has performed well this period despite a challenging market, growing sales in its Sainsbury's Local convenience stores as well as online. It's worth noting, however, that continued pressure from the discount retailers meant the retailer still lost market share this month."
Indeed, Lidl was the fastest-growing grocer during the period, for the first time since November 2017, with sales up 11.4 per cent. It outpaced Aldi's 5.7 per cent growth, which took its market share to 7.9 per cent.
"Lidl has been benefiting from its store expansion programme for a number of years, hitting a landmark in February by opening its 800th British store," said McKevitt. "The new locations have helped to bring in nearly 900,000 additional shoppers to the supermarket this period, and its proportion of market sales has increased from 5.2 per cent last year to 5.8 per cent."
Meanwhile Waitrose has ramped up preparations to take full control of its own online distribution as its partnership with Ocado comes to an end in September. Key to its success will be translating its premium brand to the online experience, according to McKevitt. "Waitrose currently only commands 5.1 per cent of the market, with sales declining by 1.3 per cent, but is the market leader in shopper satisfaction. Nearly four times more people report a good experience shopping with Waitrose than a negative one. Satisfaction with in-store staff is particularly high, and capturing that trademark service will be crucial as it grows its online platform this year."
Co-op shoppers on average made one additional trip to the grocer over the past 12 weeks, in contrast to the overall market where frequency fell. The convenience retailer saw sales grow by 2.5 per cent year on year, and its market share grew to six per cent.
And Ocado continued its double-digit growth at 10.8 per cent, while Iceland's sales increased by 1.7 per cent and its market share remained flat at 2.2 per cent.