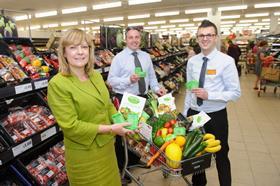 Food preservation technology Fresh Pod has won a contract to work with St Edmundsbury Borough Council on the Sainsbury's 'Waste less, save more' scheme.
The six-month project will involve educating the community around the Bury St Edmunds area about reducing waste and supplying 10,000 households with a Fresh Pod to install in their domestic fridges. Some 7,000 of these will be monitored to establish the extent of food waste reduction.
Fresh Pod technology works by neutralising the ethylene gas released naturally by fruit, vegetables and flowers as they ripen.
The 'Waste less, save more' project was developed in response to research by the government agency WRAP that indicates that the average family household throws away £700 of food waste every year. It has allocated £1 million to community projects, which work to reduce this waste.
St Edmundsbury Borough Council was selected as a 'Discovery Community' to work in conjunction with Fresh Pod. Cllr Peter Stevens, cabinet member for operations, spoke of the importance of the scheme in reducing the quantities of waste "which the council then has to pay to collect and dispose of." He stated that the council was "delighted to be working with Sainsbury's as part of the food chain, and equally to be using a locally developed and trusted solution – Fresh Pod."
Valerie Watson-Brown, director of Fresh Pod, said: "Extending the shelf life by four times will make a huge contribution to reducing our carbon footprint and alongside that, cost savings will benefit everyone."